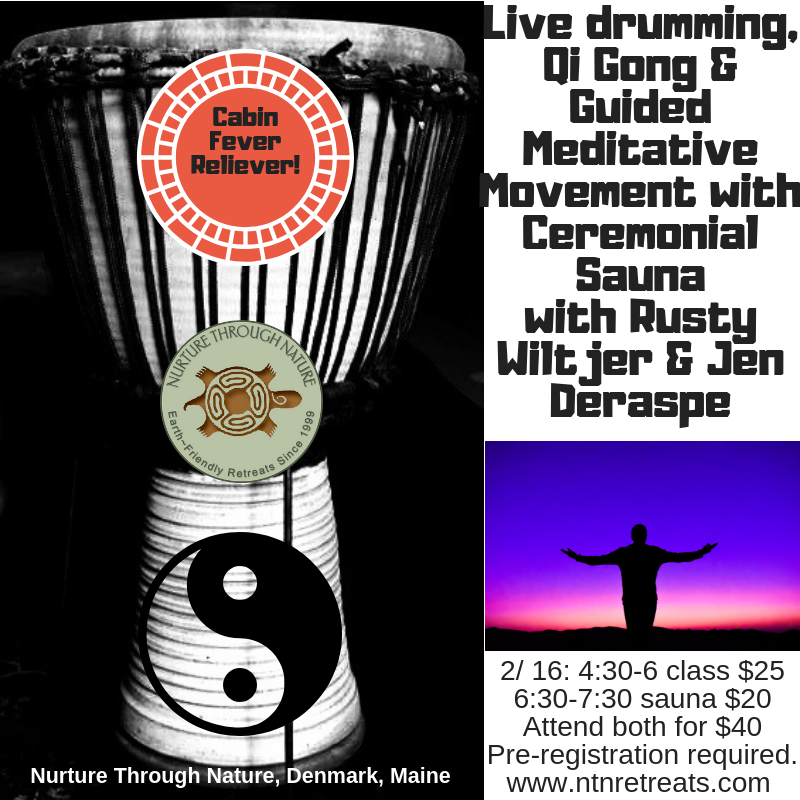 This special event is sure to cure your ails of the winter season. Break your cabin fever by coming together in community through live drumming and guided movement and Qi Gong.
4:30-6pm Jen Deraspe will guide us through mindful movement meditation as inspired by the drumming and the group's energy, sharing the ancient Chinese healing art, Qi Gong. Together we will move our life force energy through our minds, hearts and bodies, experiencing greater vitality and energy, expanding our definition of who we are. Qi Gong clears stress and tension held in our cells and offers a practical, integrative alchemy of mindful movement so that we may feel more whole, enlivened and balanced.
6:30-7:30 You are invited to join us for a guided ceremonial sauna right after class. We will share in 4 intentional rounds in the sauna's candle light, warmth and steam to bring in deep relaxation, purification and celebration of Solstice. Light refreshments will be served.
Cost for class: $25 Cost for sauna: $20 Come to both class and sauna: $40
We are requesting advanced payment to hold your spot as space is limited to 20 people.
Drummer Rusty Wiltjer is a master percussionist of over 30 years. His depth of experience translates through his hand-crafted drums, bringing forth resonant, deep pulsing sound that vibrates at the same frequency as our own hearts and that of the living earth.
Jen Deraspe has been leading retreats & sharing the healing arts since 1999. She is passionate about each person finding their healing potential and offers opportunities to do so in an authentic & effective way. A Certified Hatha Yoga and Qi Gong Instructor, join Jen on a fun quest back Home to the Self through conscious breath, Qi Gong and free movement. Walk away feeling more grounded, alive and well, embodying the affect of enhanced energy on both the body and soul.