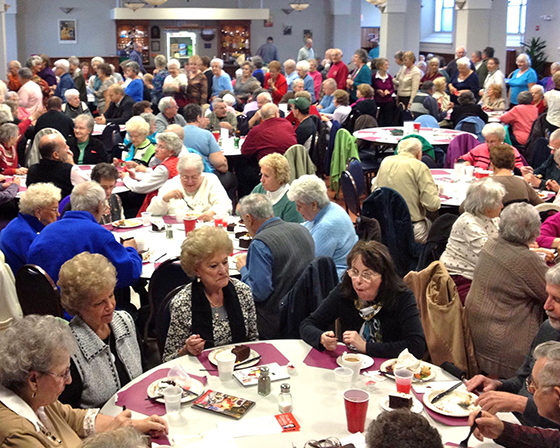 PHOTO CAPTION: Noon Tunes La Rencontre series will feature Don and Cindy Roy in a noontime holiday concert Thursday, Dec. 7, at the Franco Center at 46 Cedar St., Lewiston. Tickets are $17 per person and include lunch and concert. Buy tickets at www.francocenter.org/shows or 207-689-2000. Franco Center photo.
Noon Tunes holiday concert to feature Don and Cindy Roy Dec. 7 at Franco Center
LEWISTON—The Franco Center presents its special holiday Noon Tunes live musical entertainment at its quarterly La Rencontre luncheon Thursday, Dec. 7. Doors and cash bar open at 10:30 a.m. for socializing. Lunch is served at 11:30 a.m. followed by featured musical artists Don and Cindy Roy.
Diverse cultures, performing arts, and languages come together during La Rencontre (the gathering). Traditionally, in Franco culture, big celebratory meals included live music provided by members of the family and their neighbors. Many families made sure their kids each learned to play an instrument in order to entertain at such gatherings — and so, accordingly, the Franco Center invites local musicians to provide live music for its guests.
The menu includes tourtiere (meat pie), vegetables, roll, and dessert.
Don and Cindy Roy are known for their Franco American traditional music and have performed across the country together for over 40 years, Don on fiddle and Cindy on piano with step dancing. Don was introduced to the fiddle at the age of 15 by his uncle Lou Mathieu, a noted fiddler within Franco American circles, and soon he was winning fiddle contests throughout Maine and beyond. In 2018, Don and Cindy were honored to receive a National Heritage Fellowship Award from the National Endowment for the Arts.
Tickets are $17 and include the meal and entertainment. All seats are reserved. Tickets must be purchased by noon Monday, Dec. 4, so we can plan the number of meals to prepare. Tickets will not be sold at the door.
Call the box office at 207-689-2000 or visit between 10 a.m. to 1 p.m. Tuesdays and Wednesdays. Purchase online at www.francocenter.org/shows.
La Rencontre series is sponsored by FACE Foundation, TV5 Monde, and the Quebec Delegation Boston.
The Franco Center is at 46 Cedar St., Lewiston. Parking is in the Oxford Street mill lot. Handicap access in on the Lincoln St. Side of the building.