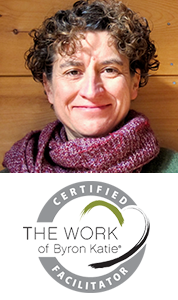 11:00am-12:30pm EST
Our mother…. "will continue to press every button we have, until we realize what it is that we don't want to know about ourselves yet. They will point us to our freedom ever time." Byron Katie
This teleclass is designed to explore the primal ways that our relationship with mother is so deeply shaped by our first stressful memory of her. Discover the ways those early memories formulate how we live out that relationship.
Whether you think you are done with your work around your mother or are just beginning, you are invited to join in this conversation to see what is left that caused separation. It does not matter if you were taken away or given away, if you were raised by a monster or a saint; you are invited to join this conversation in discovering the ways you are still other~realized so that you may better become self~realized, for your freedom's sake.
All are welcome to this teleclass, whether you are a beginner to The Work or more experienced. This Work is about questioning your stressful stories around your childhood. Contact Jen if you are new to The Work to discuss your readiness for this curriculum.
Doing The Work will help you to identify what you believe about how "off" or wrong your mother was and is, how she could have done better raising you, and places she was hurtful or unloving.
We will investigate our earliest memories and how that play into our current experiences towards ourselves, our mothers and all our relationships. You may be left with an intimacy difficult to imagine.
This teleclass consists of 6~ 90 minute sessions and one hour of partner homework in between sessions.
Class 1: Early memories and how I am right Class 2: Is she a snake or a rope? Class 3: The power of self-facilitation Class 4: It's about concepts, not mothers Class 5: Shame, an obstacle to self-love Class 6: Making amends
Requirements: Review/Read Loving What Is by Byron Katie prior to class. Read chapters on Mother in Who Would You Be Without Your Story. Practiced in The Work of Byron Katie. Full attendance, homework completion and reading assigned excerpts from Who Would You Be Without Your Story by Byron Katie available at thework.com.
Phone, computer and a Facebook Account are necessary communication tools for this virtual course.
Registration Details Contact Jen Deraspe to register: HolisticCoachJen@gmail.com 207-595-8260
To reserve your spot with a credit card (please add 3% service charge): ntnretreats.com/reservations
To reserve your spot by check or money order: Nurture Through Nature 77 Warren Rd Denmark, Maine, USA 04022
ntnretreats.com/holistic-coaching
Cost 250US$/220Euros
This course is also available privately, at your convenience, as an in person intensive or by the week for $595.
Please note: ITW Credit is not available when taken privately.
Credit 10 credit hours available for Certification candidates in the Institute for The Work
About Presenter
Jen Deraspe Jen lost sight of her mom's true nature in the throws of believing the images, projections and memories playing in her head. The Work has given her deep and humble appreciation and love for the woman that gave her life and continuous teachings along the way.
Additional Information "Met my mom for the first time 31 years after her death and she is an AMAZING lady and mother. Thanks for all of it Betty!! And thank you, Jen Deraspe, for being my companion on a most amazing and tender journey." Sara K, Santa Cruz, CA
"Jen has done her work! She is a natural facilitator, gentle and kind; yet does not let me leave The Work. She is pure love." Stacey S, Massachusetts
"With Jen, I felt respected and safe and a part of a fully collaborative and very worthy journey. Jen's skill regarding facilitating The Work combined with her gentleness and honesty is a great gift." Chris D, Maine
Cancellation Policy All cancellations must be submitted in writing. If your cancellation is received 7 days in advance of the workshop, your tuition will be refunded less a $50 processing fee. If you do not send advance written notice of your cancellation, if you do not attend, or if you leave the teleclass early, your payment is non-refundable and non-transferable.