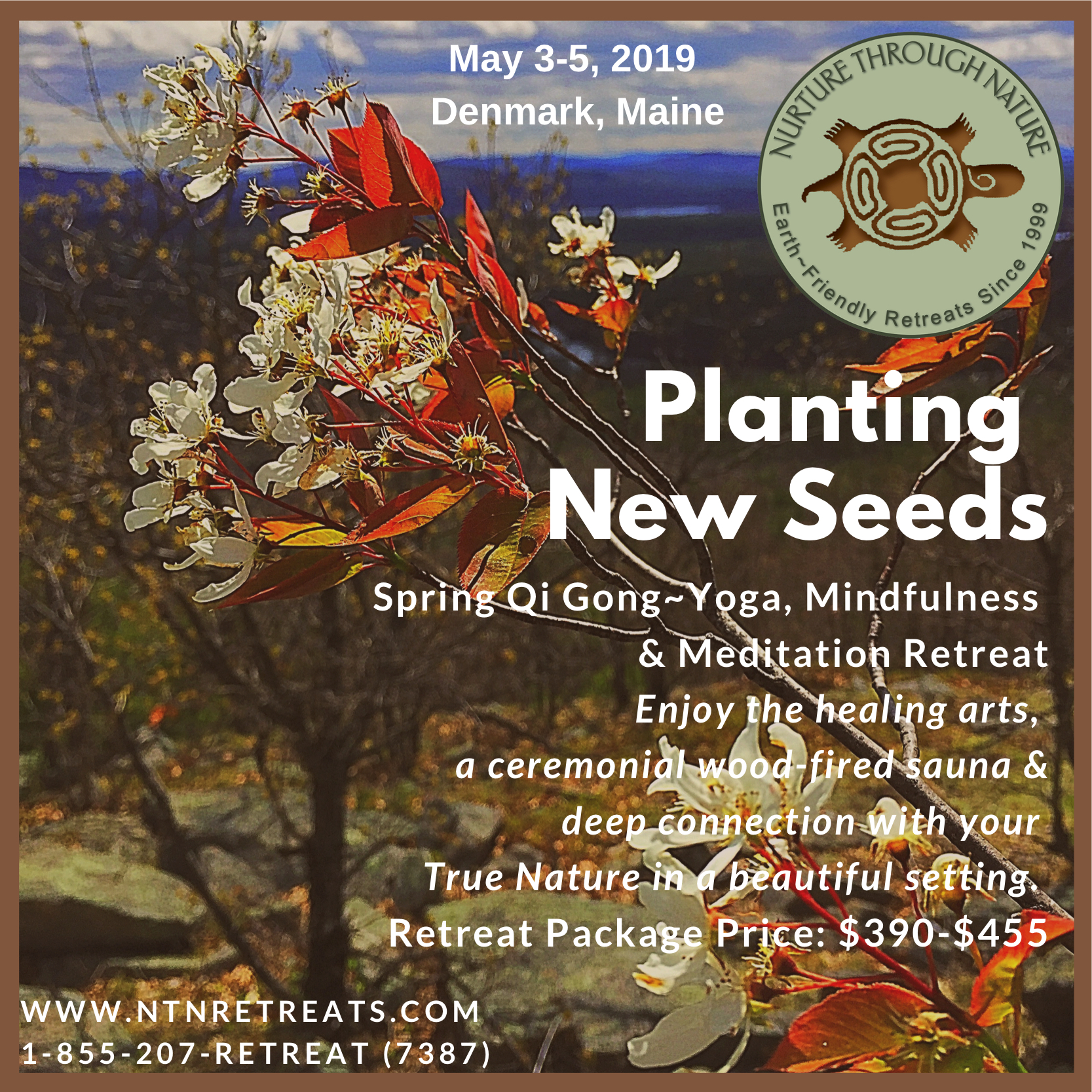 In 2019 Nurture Through Nature Commemorates 20 years of Earth-Friendly Healing Arts Retreats!
Join us for a weekend immersion into wellness, mindfulness and self-awareness. Allow Maine's brilliant spring rebirth enliven you on a gentle journey into stillness and ease. Whether you are new or seasoned in meditation or the healing arts, join us to deepen your inner healer in the good company of others on the path. Experience the following gently guided opportunities: Daily guided meditation to reconnect Morning period of Noble Silence Daily Qi Gong, the ancient Chinese practice for inner healing and power Mindful eating practices to fully experience bounty sourced from this living earth Reflective discussion circles The Work of Byron Katie to undo stressful thinking Intentional Sauna Ceremony Singing and chanting meditations Solo time in nature for reflection and self-awareness This all inclusive retreat includes organic vegetarian meals beginning with Friday dinner, ending with breakfast on Sunday, two nights shared accommodations in one of our eco-cabins, yurts or off the grid lodge, group sauna, private hiking trails, & all programming. Facilitated by Jen Deraspe, founder of Nurture Through Nature retreat center, who has been leading retreats & teaching yoga, qi gong and meditation since 1999. She is passionate about each person finding their healing potential and offers opportunities to do so in an authentic & effective way. Retreat package price: Self~Assessed Sliding Scale: $390-$455. Stay an extra night before or after retreat for discounted $75 per night (meals not included). To register: Send non-refundable $100 deposit to: Nurture Through Nature, 77 Warren Rd, Denmark, ME 04022. Or pay online through our website Contact holisticcoachjen@gmail.com to apply for reduced rate fair trade scholarship (kitchen support).
*Please note, this retreat is an alcohol/drug/chem free offering. You are required to follow any doctor/medical practitioner prescriptions you may be on at time of the retreat.