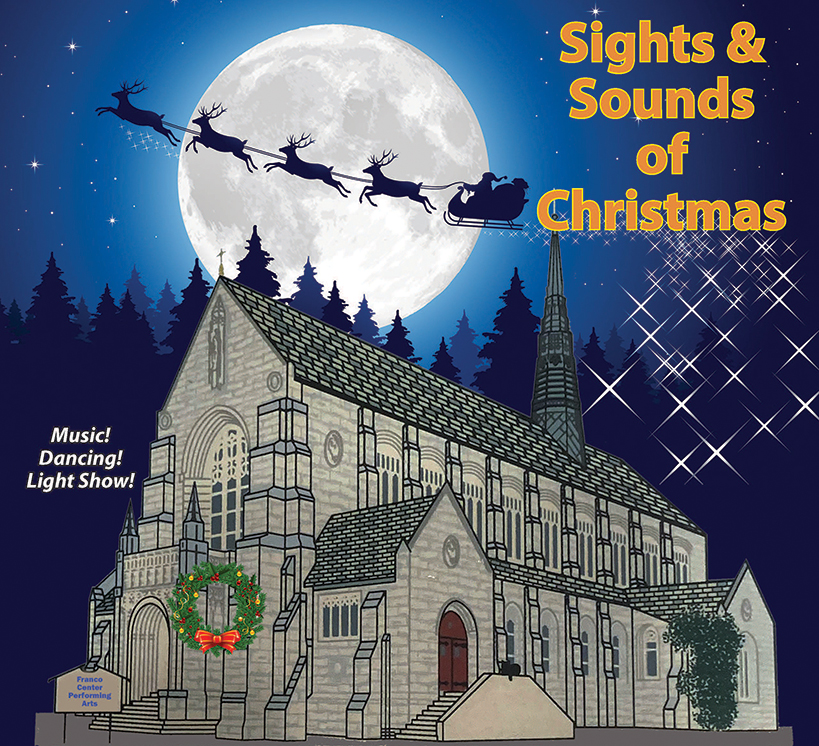 "Make it a holiday tradition to visit the Franco Center each year for our spectacular Christmas show," said Elaine Roop, the nonprofit's board president. "Our show has all the best sights and sounds of the season all rolled into one magical live production."
With an evening show at 7:30 p.m. Saturday, Dec. 17, followed by a late afternoon show at 5:30 p.m. Sunday, Dec. 18, the Franco Center's beautiful Performance Hall stage will be the scene of holiday-themed performances, music, and a light show.
Franco Center Production Manager Jake Hodgkin has put together a diverse variety show that includes ballet dancers from Auburn's Dance Center who will perform a scene from "The Nutcracker." Hodgkin will perform on the piano with his grandmother who will sing a holiday song. Hodgkin said, "The audience will be able to sing along to holiday music ranging from classic carols to modern favorites."
The Franco Center will be brimming with Christmas decorations, more than a dozen lit Christmas trees, holiday lights and music, throughout its building. "Make time for your loved ones this season and attend our spectacular Christmas show," said Roop.
Tickets for the Franco Center's Sights & Sounds of Christmas Show are $25 for adults and $15 for children in advance; and $30 for adults and $20 for children at the door day of show. Tickets can be purchased online at www.francocenter.org or by phone at 207-689-2000. Tickets can also be purchased in person at our box office between 10 a.m. and 1 p.m. on Tuesdays and Wednesdays.
Support for this Christmas event comes from Skelton Taintor & Abbott, Norway Savings Bank, Berman & Simmons, Maple Way Dental Care, Bennett Radio Group, Sun Journal, Turner Publishing, and Uncle Andy's Digest.
The Franco Center is at 46 Cedar St., Lewiston. Parking is available in the mill lot. The building is handicap accessible on the Lincoln St. Alley side.
7:30 p.m. Saturday, Dec. 17, 2022 show.
5:30 p.m. Sunday, Dec. 18, 2022 matinee show.
Adults = $25 in advance and $30 at the door day of show.
Students = $15 in advance and $20 at the door day of show.