Weather & Seasons
The Seasons and Their Weather in Maine's Lakes and Mountains
Maine's Lakes and Mountains acknowledges its four seasons gladly, so be prepared. Winter here brings snow-capped mountains, thickly-frozen lakes, and frigid temperatures; summertime offers temperate, humid days and cool, comfortable evenings. Fall and spring fill the gaps with more moderate days and crisp evenings.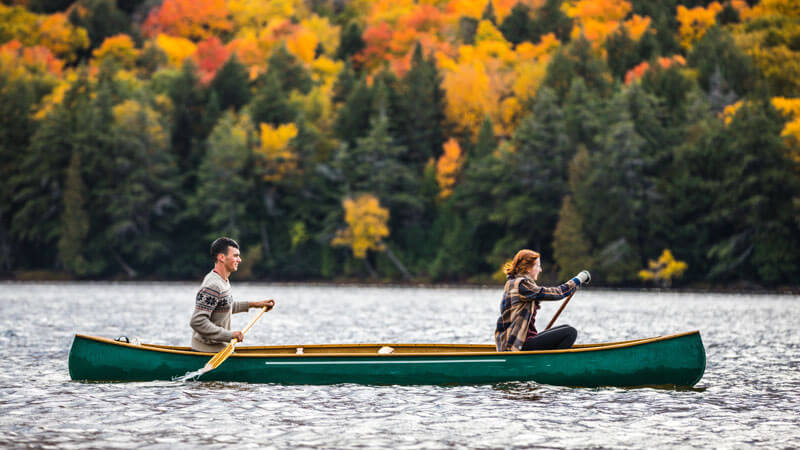 Summer & Fall bring ideal paddling conditions - photo by bjohnson

Spring can be temperamental, so bring layers. You might start out with 40 degree weather, only to drift off for an afternoon nap in 80 degree temperatures. Rain is common, but so is bright sunshine, so pack your sunglasses along with your umbrella.

Summer can get downright hot! Shorts and T-shirts will keep you comfortable. Be sure to pack an umbrella for an occasional rainy day or thunderstorm that rolls through.

Autumn mornings start out chilly, with comfortably warm afternoons. Once again, dress in layers. If you plan to be out in the woods, you will want to sport some blaze orange.

Winter demands thermal outerwear. The temperature can regularly range from below zero into the teens. On windy occasions, the temperature can drop dramatically and will warrant extra layers. In general, you will still want a sweater while indoors and pack your flannels for overnight.
---
Trip Ideas
---
  The Best of Maine's Lakes & Mountains
  Epic Hikes in Maine's Lakes & Mountains
  On The Water in Maine's Lakes & Mountains
  Let's Eat in Maine's Lakes & Mountains
  Road Tripping in Maine's Lakes & Mountains
  Wintertime in Maine's Lakes & Mountains
  Videos