Top 12 Swimming Holes and Waterfalls in Maine's Lakes & Mountains
12 of The Best Swimming Holes and Waterfalls in Maine's Lakes and Mountains
With more than 30,000 miles of rivers and streams winding through the state, it's no secret that fresh water is abundant in Maine.
The vast western region called the Lakes and Mountains claims a fair share of these waterways, with endless falls and swimming holes that invite lazy afternoons by the river. Imagine a little bit of everything—cascades with spectacular drops, kid-friendly wading pools, and tiny potholes just big enough for you and a friend.
Here are 12 of our favorites for swimming, hiking, and riverside picnics.
1. Coos Canyon, Byron
A series of waterfalls and pools makes Coos Canyon a watery playground with plenty of room to lounge and is also one of Maine's most beloved swimming holes. Look for flecks of gold on your toes when you emerge from the water because the Swift River is full of the precious metal—there's even gold panning equipment for rent at the shop across the street.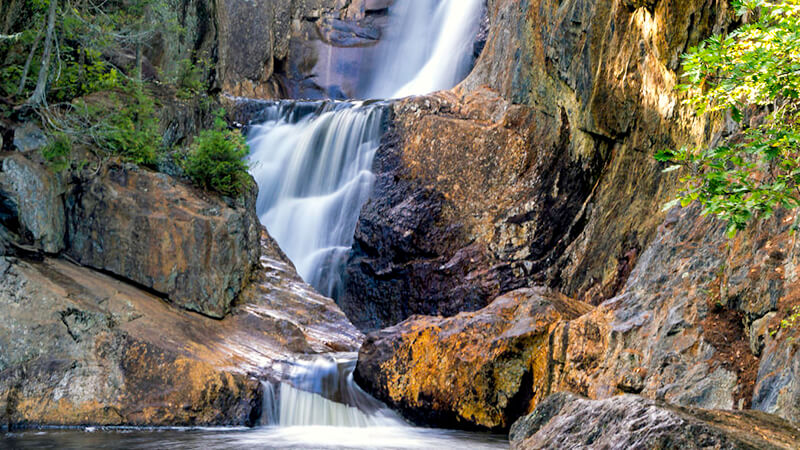 2. Smalls Falls, Rangeley
Overlapping bands of rocky cliffs frame a set of short drops at Smalls Falls, which tumble into wading and swimming pools. Bathrooms and fire pits make this an easy place to while away an entire day, and the gorge itself glows with spectacularly colored rock in shades of brown, gold, orange, and black.
3. Rattlesnake Pool, Stoneham
Emerald-green water flows from the White Mountains into this beautiful pothole, where hemlock trees dip almost to the surface of the water. The snow-fed stream ensures it stays cool through the summer, so Rattlesnake Pool is a great mission for the very hottest afternoons of the year.
4. Three Pools, Roxbury
Located along the Swift River at the base of a small waterfall, Three Pools is a local favorite on a hot day. Surrounded by forest and rocky boulders with mountain views in the distance, this is also a beautiful spot to visit in the fall when the leaves are changing—even if you aren't going for a swim.
5. Step Falls, Newry
Rippling through a 24-acre preserve managed by the Mahoosuc Land Trust, Step Falls slides right into a swimming hole surrounded by granite slabs. Though the deep pools are ideal for cooling off on a summer afternoon, Step Falls is another one that is especially beautiful in autumn, when the surrounding deciduous forest sends bright reflections across the surface of the water.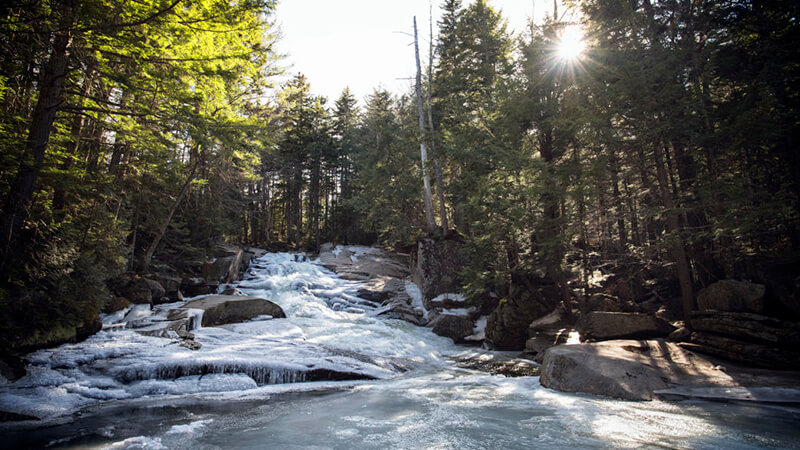 6. The Cataracts, Andover West Surplus
Dropping 60 feet over mossy rocks in Frye Brook, you have to put in a bit of effort to get to The Cataracts. A short-but-steep hike into the woods will take you to a cluster of swimming holes and waterfalls. There's a quiet pool for swimming in, but lots to explore in the surrounding forest: climb over the rocks, follow trail extensions to hidden spots, and search for abundant wildflowers in the spring and early summer.
7. Frenchman's Hole, Near Bethel
With a jumping rock, wispy waterfall, and deep pool, this forested spot could be the highlight of any water park's lazy river. Luckily, Frenchman's Hole is on public land, and even on the busiest of summer days, there is lots of room to spread out between the upper and lower pools. Check out the pretty Sunday River covered bridge on your way to the river—it's appeared on so many posters, calendars, and canvases that it has been nicknamed the "Artist's Bridge."
8. Dunn Falls, Near Andover
Follow a portion of the Appalachian Trail to reach Dunn Falls, a pair of waterfalls on the West Branch of Ellis River. The upper falls streams over low-angle rock, but the lower falls drop steeply into a pool, framed by high rock walls on either side. There's no swimming at the falls but keep on eye on the river as you make the mile-long hike in and you'll find appealing spots to soak.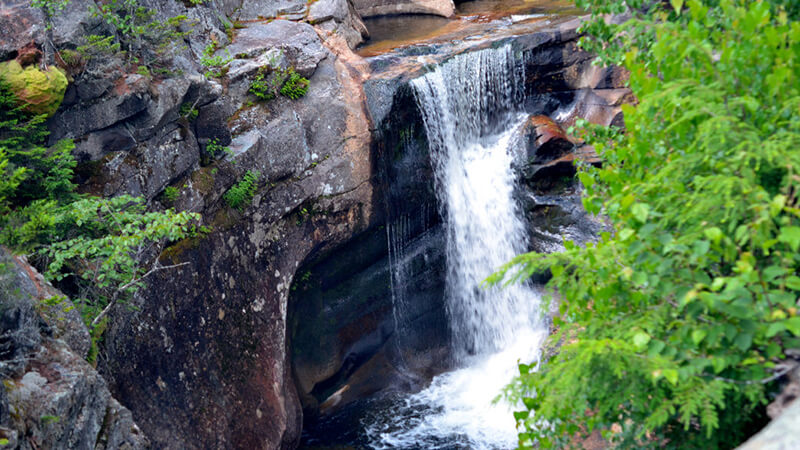 9. Screw Auger Falls, Grafton Township
Autumn foliage makes a brilliant backdrop for Screw Auger Falls, a popular spot on scenic Bear River that once powered a sawmill. The wading pools here are ideal for cooling off, and a series of potholes pockmark the inside of the gorge. Look for the small natural arch or keyhole alongside the falls, and don't miss the roadside Puzzle Mountain Bakery, a wooden stand selling self-serve pies, whoopie pies, and maple cream cookies.
10. Angel Falls, Rangeley
You'll find the longest single drop in Maine at the 90-foot Angel Falls at the end of a .8-mile trail near the Rangeley Lakes. (On sunny days you might also catch a few rainbows in the frothy mist!) There's nowhere to swim here, but the hike alone is worth the trip, with adventurous rock scrambling and brook crossings.
11. Poplar Stream Falls, Carrabassett Valley
Located a short distance from Maine Huts & Trails Poplar Hut, hikers will find Poplar Stream Falls at the edge of Warren's Trail, a mostly-flat stroll (or bike ride) from the Airport Trailhead. There's a broad poll at the base of the falls that's ideal for a swim, and you can make a weekend of it if you're bedding down at the nearby hut.
12. Huston Brook Falls, Carrabassett Valley
Take a short, 5-minute walk to the two-tiered Huston Brook Falls. It's not far from the small town of Kingfield, and has a deep, cold pool that will hit the spot on a hot summer day. There is a small, rocky beach next to the swimming hole and kids love exploring the area.
For even more ideas of things to do on your next trip to Maine, request a Visitor Guide.
---
Written by Jen Rose Smith for RootsRated in partnership with Maine's Lakes and Mountains Tourism Council. Images: 2. Larry Miller, 6. Jonmikel & Kat Pardo, 9. Ernest McGray, Jr.