Top 6 Trail-to-Pub Pairings in Maine's Lakes & Mountains
6 of The Best Trail-to-Pub Pairings in Maine's Lakes & Mountains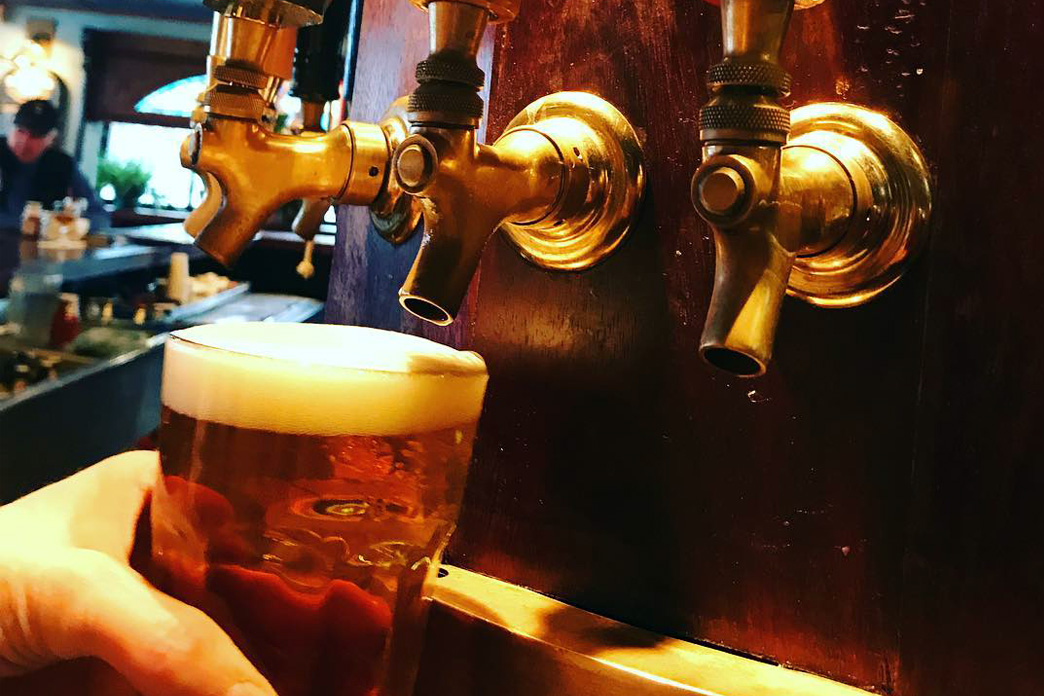 The stunning glacial landscapes of Maine's Lakes and Mountains region beckon outdoor adventurers who love exploring the vast rocky terrain, swimming in alpine lakes and bagging peaks. Ten of the state's tallest mountains are found in the region. Ale aficionados who like to chase their hikes with a cold beer will find plenty of breweries, too, thanks to Maine's booming craft beer scene.
Whether your go-to brew is a hoppy IPA or a smooth porter, this list will guide you to the best local breweries—all within 30 minutes of Maine's top mountain trails. From short jaunts that lead right to a pub to all-day summit treks that end with ales at altitude, we have the perfect Maine trail and ale pairing for you.**
1. Tumbledown Mountain | Tumbledown Brewing in Farmington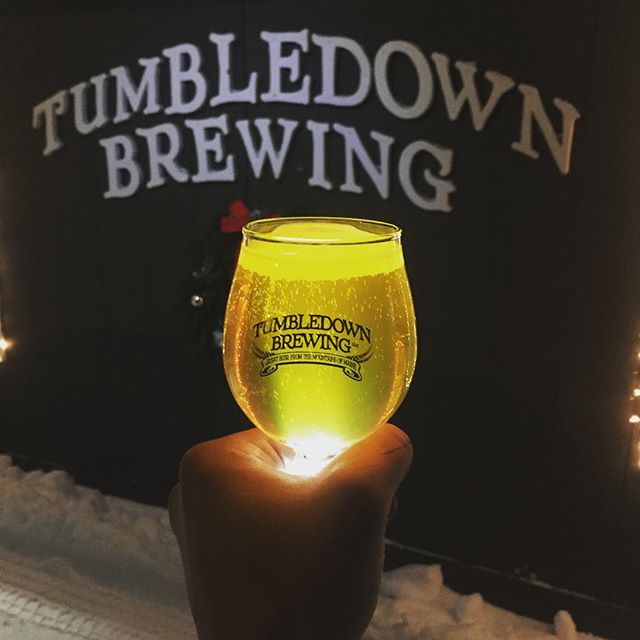 Tumbledown Mountain's alpine ponds, bald summits, and high cliffs offer the best in Maine hiking. Follow the steep, 4.4-mile Brook Trail to Tumbledown Pond—adding on a summit quest if your legs are feeling fresh. Stop for a swim and snack at the pond before continuing to Tumbledown Ridge Trail to bag the peak. Take in the stellar wilderness views from the top before returning to the base, or turn around and go back the way you came.
After you've worked up a sweat, celebrate your summit with a craft brew that shares its name with the mountain you conquered, Tumbledown Red. The flagship beer of Tumbledown Brewing, this malty red is available on draft and in growlers for taking to go. For fully local flavor, try the 207 Pale Ale, made exclusively with Maine-grown hops and malt. Check out the brewery's website for a list of where you can get yourself a growler to celebrate your next summit.
2. Robert's Farm Preserve | Norway Brewing Company in Norway
Once the site of a renowned dairy farm, Robert's Farm Preserve has been reclaimed by nature and is now home to a trail system that snakes through the old property along Lake Pennesseewassee. Hike on eight miles of trails past the farm's pond, orchards, and remnants of stone walls. Visit in winter to explore the snow-covered landscape on three groomed cross-country ski trails for beginners to experts.
Once you've wandered through the woods, drive five minutes to the town of Norway for après at Norway Brewing Company, a family-owned microbrewery. Sit and sip in the outdoor beer garden during warmer months, or drink and dine inside from their made-in-Maine gourmet food menu. If you like your beer hoppy, try the Lust for Gold American IPA. Order the Mr. Grumpypants Oatmeal Stout if you're craving something heartier.
3. Androscoggin Riverlands State Park | Bear Bones Beer in Lewiston
Explore 2,675 acres of wild lands along Maine's third largest river via the Androscoggin Riverlands State Park's vast trail system. Petitions from the people of Maine saved this land from development in the 1980s, and it's now a year-round recreation hotspot.
Walk the easier 4.5-mile Homestead Loop along the river for a dose of history, passing foundations of homes that lined the shore until 1927 when the rising waters from the construction of Gulf Island Dam destroyed the buildings. For a lung-burning climb, venture up the steep 6.85-mile Ridge Trail and you'll be rewarded with views of the Androscoggin River from a rocky ledge.
After hiking, drive 20 minutes to downtown Lewiston for a craft beer from independent nano-brewery, Bear Bones Beer. Their cozy space features eight rotating taps with inventive options like Pink Pils (a beet pilsner) and Brett & Brad, a barrel-aged blend with local, organic blueberries.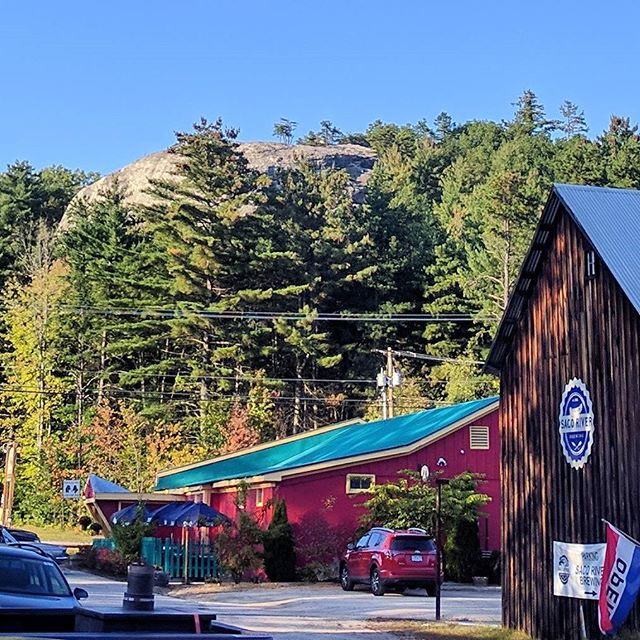 Why is a huge rock sitting in the middle of a forest in Maine? That may be the first thing you think when you take the quick—but worthwhile—hike up to Jockey Cap Rock. This 15-minute amble through the trees first passes a tiny cave, ending just .2 miles farther at a massive granite rock. The rock's location isn't as mysterious as it seems, though—it was deposited in the valley by a glacier thousands of years ago, and over time the forest grew up around it. Once the site of Maine's first ski hill, people now climb Jockey Cap for 360-degree views of the town and New Hampshire's White Mountains. Identify the peaks you see with a panoramic landscape compass that sits atop a stone monument on the rock.
Return the way you came and take a five-minute jaunt beyond the trail for your post-hike reward: a local beer! You won't find a brewery closer to a trail than Saco River Brewery. Pop by in your hiking gear for a flight of craft brews served on their signature river paddles. Try the Pine Tree Pale poured from a tree branch tap handle to keep with the day's forest theme, or sip the ever-changing Flip-Flop, an experimental IPA brewed with different hop varieties.
5. Grafton Notch State Park | Sunday River Brewing in Newry
Climb to the top of Maine's third tallest mountain on this list's toughest hike, Old Speck Trail in Grafton Notch State Park. You'll follow the famed Appalachian Trail's white blazes for most of the 7-mile round-trip journey through the rugged Mahoosuc Mountain Range. At the 4,180-foot summit, climb up the open observation tower and look out at New Hampshire's Presidential peaks.
After your hike, drive 10 miles to Sunday River Brewing Company, a casual brewery, and restaurant on the road to Sunday River Ski Resort. Refuel with a Maine lobster roll and refreshing Right Side Wheat beer on the patio, or sip on a chocolate malty Ski Town Brown on colder days. (Tip: Take some housemade donuts to go. You've earned them after that hike!)
6. Little Bigelow |The Bag & Kettle at Sugarloaf Mountain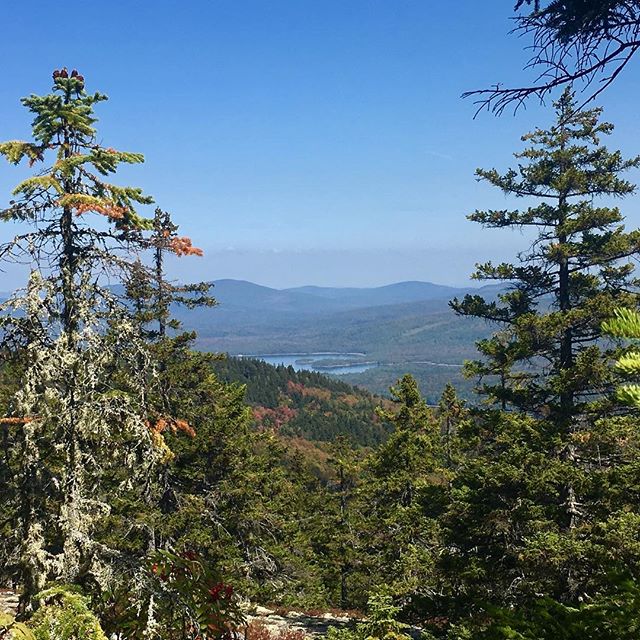 Venture into the Bigelow Preserve and trek through dense forest along the Appalachian Trail to the 3,040-foot summit of Little Bigelow on this rewarding 6.2-mile round-trip hike. Put in another 1.4-mile side trip to visit an AT lean-to then follow the brook to The Tubs, a cascading series of pools you can cool off in on a hot day.
Once the trekking's done, après on the mountain at The Bag & Kettle, a Sugarloaf Mountain Resort institution for over 50 years. Don't leave without tasting this English pub's traditional English brown ale paired with legendary Bag Burger. Voted one of the top five burgers in the world by Skiing magazine, this classic is served with a secret sauce, all the fixings, and a generous side of curly fries.
Whether you're coming to explore Maine's Lakes and Mountains for a weekend or a week (or more!) get tips on planning your trip, where to stay, and what else you can do while you're here, by checking out our digital planner or you can also request a printed copy of our a Free Visitor's Guide.
---
Written by Jenny Willden for RootsRated in partnership with Maine's Lakes and Mountains Tourism Council.