Top 9 Incredible Winter Adventures in Maine's Lakes and Mountains
9 Incredible Winter Adventures in Maine's Lakes and Mountains
Maine's Lakes and Mountains region offers the perfect winter getaway with plenty of snow, few crowds, and a wealth of outdoor experiences for downhill and cross-country skiers, snowmobilers, ice fishermen, ice climbers, fat tire bikers, and dog sledders.
The region boasts a couple of New England's iconic ski areas—Sunday River and Sugarloaf—and some of America's best Nordic ski terrain. At the end of a chilly day of fun, you'll find excellent restaurants and fine lodging that fits every budget and taste. Here are our choices for nine amazing adventures that make Maine's Lakes and Mountains region your best winter destination.
1. Downhill Skiing
The area is a downhiller's playground, home to some of New England's iconic resorts along with smaller mid-sized areas. Sugarloaf offers gentle terrain for novice skiers but shines with challenging above-treeline skiing, steep runs, glade skiing, and frosty views that stretch from Mount Washington to Katahdin. Sunday River is famed for its fabulous snow with groomed runs, diverse terrain, and 135 trails and glades spread over eight mountains. Black Mountain Ski Resort, known for Nordic skiing, now shines with its downhill slopes, 1,380 feet of vertical drop, fun glade skiing, and affordable lift tickets. Lost Valley Ski Area has family-friendly slopes, a busy ski school, and a tube park. Pleasant Mountain, Maine's oldest ski resort, offers ski and snowboard terrain, and 19 trails for night skiing. Mt. Abram Ski Resort, one of Maine's best mid-sized mountains, is an alternative to bigger neighbor Sunday River with 44 trails and acres of beginner slopes at Westside.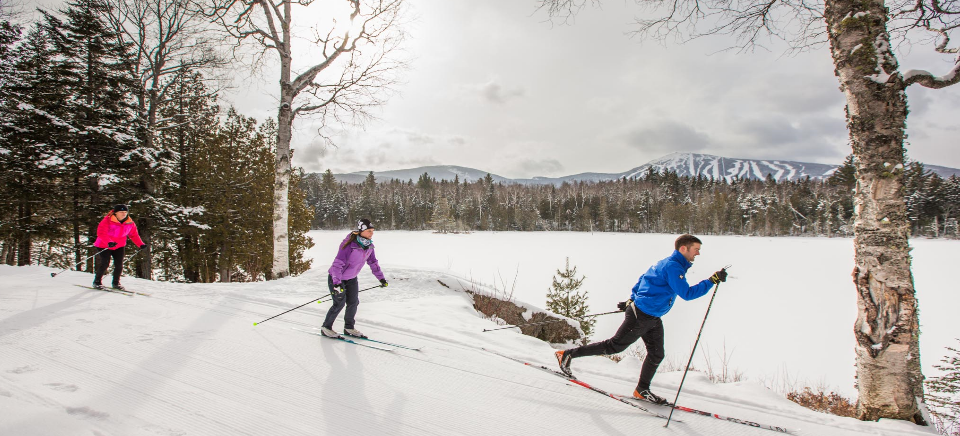 2. Nordic Ski Touring
Maine's snowy Lakes and Mountains region is perhaps the best cross-country ski area in New England. The region is home to more than 20 Nordic touring centers with more than 300 miles of groomed trails along with snowshoe terrain. The rolling mountains around Bethel are perfect for cross-country skiing. Go for a weekend trip to the Bethel Village Trails at the Bethel Inn Resort and ski more than 18 miles of trails, or head north of town to Carter's XC Ski Center. At Sugarloaf Outdoor Center, minutes north of Sugarloaf ski area, try Nordic skiing in the morning and downhill racing in the afternoon. The center is Maine's largest cross-country ski area with 55 miles of groomed trails, a skating rink, and equipment rentals. Rangeley Lakes Trails Center, with an annual 200-inch snowpack, boasts 40 miles of wooded trails for Nordic skiers and backcountry snowshoers. Black Mountain of Maine near Rumford is famed for its world-class Nordic trails, often used for racing. The area features 21 miles of groomed trails for both skating and classic cross-country skiing.
3. Hut-to-Hut Snowshoeing
A hut-to-hut winter trek on snowshoes through Maine's remote backcountry is a bucket-list adventure. Maine Huts & Trails, a nonprofit organization, offers more than 80 miles of trails that thread through pristine forests to convenient huts with tasty meals, beer on tap, showers, and restful mattresses at day's end.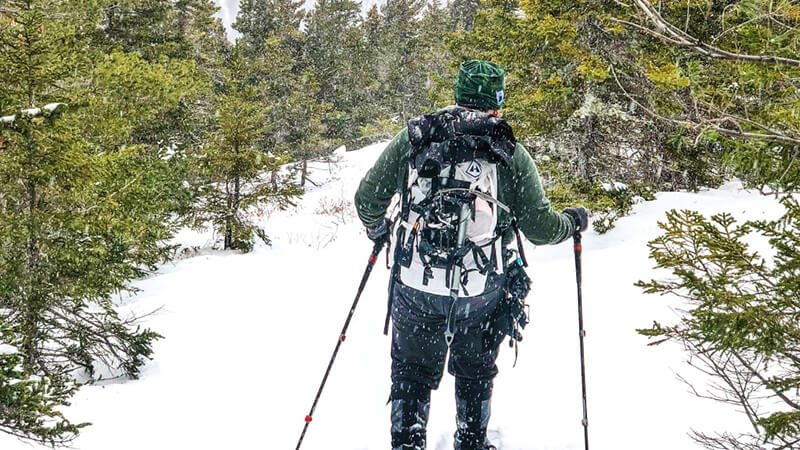 Start near Sugarloaf and head out for either an overnight or multi-day trip to the four huts—Stratton Brook, Poplar, Flagstaff Lake, and Grand Falls—on snowshoes or cross-country skis. Most of the trails are flat with little elevation change, and they're easy to follow. Huts & Trails also offers popular guided snowshoe hikes to Stratton Brook Hut.
4. Snowmobiling
Combine deep snow and miles of trails and old roads and you get wild snowmobiling in Maine's Lakes and Mountains. The area features a vast network of snowmobile trails that are well marked and groomed, making it easy to dash through snowy woods and across frozen lakes. Some of the best snowmobile areas are around the Rangeley Lakes, in the Carrabassett Valley/Stratton/Eustis area, and in state parklands, including Mt. Blue, Bald Mountain, Androscoggin Riverlands, Grafton Notch, and Dead River. Miles of trails on both public and private property also lace the countryside around Bethel and Rumford. Be sure to check out the BlackFly Loop, an extensive snowmobile trail leads to several overlooks where you can enjoy panoramic views of surrounding mountains and get a bird's eye view of glacier valleys and small villages below.
5. Ice Climbing
There is plenty of ice climbing, the sport of ascending frozen waterfalls and icy gullies, in western Maine's backcountry. While adventurous climbers find small icefalls in the region, the best ice climbing venue is Grafton Notch north of Bethel. The rugged valley yields an assortment of routes for both beginners and experts. The low-angle slabs are perfect terrain to learn how to use crampons and ice tools, while steeper icefalls on Old Speck and at The Amphitheater offer superb routes up frozen falls and icicles. For more fun, look for sculpted ice on Tumbledown Mountain, near Shell Pond, and in the Rangeley Lakes area.
6. Ice Fishing
Arctic cold sweeps out of the north bringing thick ice to Maine's lakes along with hardy fishermen who haul ice shacks and augers onto the ice and drop lines for brook trout, landlocked salmon, togue, and smallmouth bass. Frozen lakes and ponds are scattered across the region, making it easy to spend a quiet day on the ice. Sebago Lake and the ponds to the north offer productive ice angling, with deep water harboring lake trout and salmon, and easy accessibility. Good ice ponds include Twitchell, Round, and Indian ponds near Greenwood, as well as Moose, Bear, and Kezar ponds near Bridgton. The northern lakes offer long ice seasons, breathtaking scenery, and solitude. While Rangeley Lake is closed for ice fishing, visit nearby Haley Pond for stocked brookies, or head to Flagstaff Lake near Eustis, Webb Lake by Mt. Blue State Park, or Chain of Ponds, Umbagog Lake, Porter Lake, and Roxbury Pond.
7. Dog Sledding
Dog sledding or mushing is a vibrant part of western Maine's winter culture. It's thrilling to ride a wooden sled pulled by a team of fast dogs across a frozen lake or crunch along trails through frozen woods.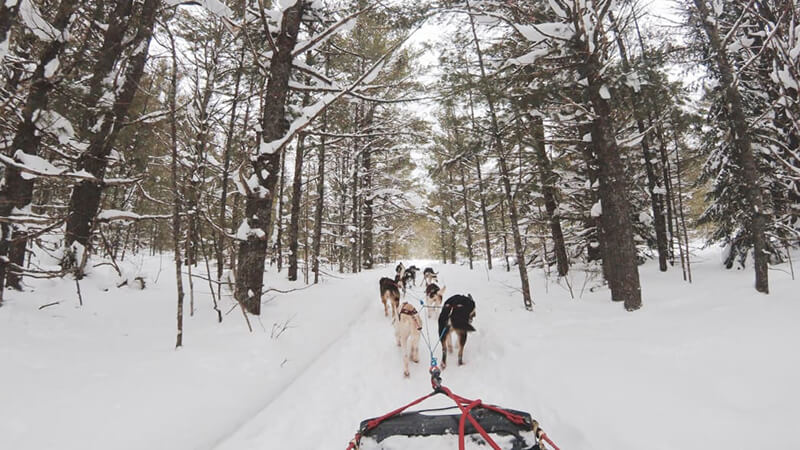 Several outfitters, including Mahoosuc Guide Service, New England Dogsledding, and Mornington Crescent Sled Dogs, offer guided dog sledding trips that range from half-day excursions to week-long wilderness experiences as well as hands-on clinics that teach you how to mush and give the basic commands "Gee!" and "Haw."
8. Sugarloaf's Fat Tire Festival
Fat tire bikes—mountain bikes with 4- to 5-inch wide tires—are a great way to get around in Maine's winter wonderland. When you're fat biking you can crunch through the snow on trails and roads, traveling anywhere a regular mountain bike can go. The Sugarloaf Outdoor Center has embraced the fat tire revolution with groomed trails that are open all winter as well as a celebrated Fat Tire Festival every February. The popular event features long and short racecourses, a Frozen Fattie Adventure Ride on the trail network, bike demos, and a guided night ride. Look for more fat tire adventures and races near Bethel, Mt. Abram, and in area state parks.
9. Skijoring
There's nothing better than spending a winter day with your best friend, so hitch up your dog, strap on your cross-country skis, and go skijoring. The dog, attached to the skier with a long leash, helps you cruise along groomed ski trails. Maine, the perfect spot for winter bonding with your canine companion, offers excellent skijoring trails at Bethel Nordic Ski Center, Carter's XC Ski Center, Five Fields Farm by Bridgton, Rangeley Lakes Trails Center, and Sugarloaf Outdoor Center.

When winter arrives, the Lakes and Mountains region of Maine becomes a unique winter wonderland. With an unusually rich blend of snowy and frozen terrain, this area supports a vast range of activities, from ice fishing to skiing to ice climbing. Plus, it's the perfect place to try something new and unusual, like skijoring, dog sledding or fat biking. When it comes to serving such a rich and diverse menu of winter activities, this part of Maine is unmatched.
---
Written by Stewart Green for RootsRated Media in partnership with Maine's Lakes and Mountains Tourism Council. Image 1: Maine Lakes & Mountains; Image 2: Jack Ross