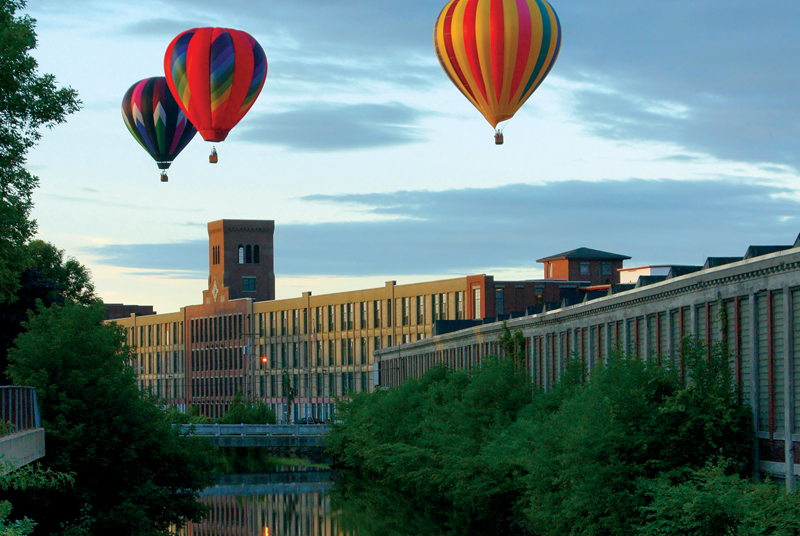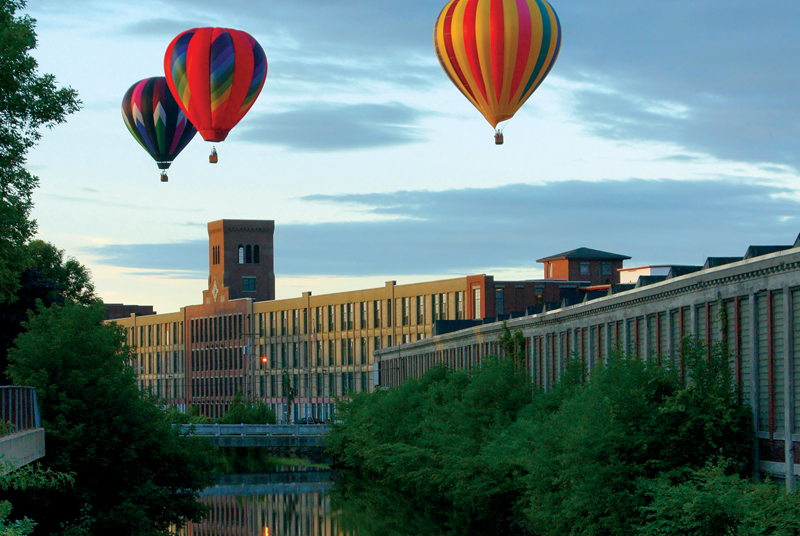 Androscoggin County
With a shared population approaching nearly 60,000, the "twin cities" of Lewiston and Auburn (L/A) are the cultural and economic center of Androscoggin County. Sitting just above and between the downtown of both cities are the Great Falls of the Androscoggin River, which helped the area rise to prominence during the last century as a center of Maine's shoe and textile industry. Visit Museum L-A, located in one of the former Bates Mill buildings, to learn more about the towns' histories.
Today, visitors are invited to see the falls with a walk along the Androscoggin River Walk, a mile-long paved trail that travels from the falls south to a pedestrian bridge crossing the river to Lewiston's Simard-Payne Memorial Park, home to celebrations like the Great Falls Brewfest in June, Liberty Festival (July 4), Dempsey Challenge in October, and August's Great Falls Balloon Festival which fills the day and night sky with dozens of spectacular hot air balloons.
Lewiston is home to the Basilica of Saints Peter and Paul, Maine's only basilica and the second largest church in New England. The structure, completed in 1936 to serve the large French-speaking population, is modeled after the Cathedral at Chartres and features a striking rose window. One of Lewiston's other prominent landmarks, Thorncrag Nature Sanctuary, is the highest point in the city. In addition to its reputation as a great hiking, walking, and snowshoeing destination, it is also a protected wildlife and bird habitat with more than 70 documented species of birds.
Auburn offers the delights of the area's best bass fishing in the wonderfully clean Lake Auburn, and for rock hounds there is feldspar, smoky quartz, tourmaline, and, of course, apatite to be unearthed at Mount Apatite located west of downtown.
Both cities offer a collection of cultural gems: The Public Theatre, the state's highest rated equity theater; over 60 annual performances at the historic Franco Center; the world-renowned Bates Dance Festival held each summer; and family-friendly Lewiston Auburn Art Walk held on the final Friday of the warmer months, among others.
Click here for the official Lewiston Auburn Metropolitan Chamber of Commerce site.