Beginner or Pro: Top 6 Reasons You Should Go Snowmobiling in Maine's Lakes and Mountains.
Top 6 Reasons You Should Go Snowmobiling in Maine's Lakes and Mountains
With deep snow, varied terrain, more than 3,000 miles of marked trails, and a friendly sledding culture, Maine's Lakes and Mountains region is the hub of New England snowmobiling. In this part of the state, it's easy to get away from civilization and ride groomed, family-friendly trails, cruise across untouched powder beside frozen lakes, or climb a steep trail to a lofty overlook atop a windswept mountain summit.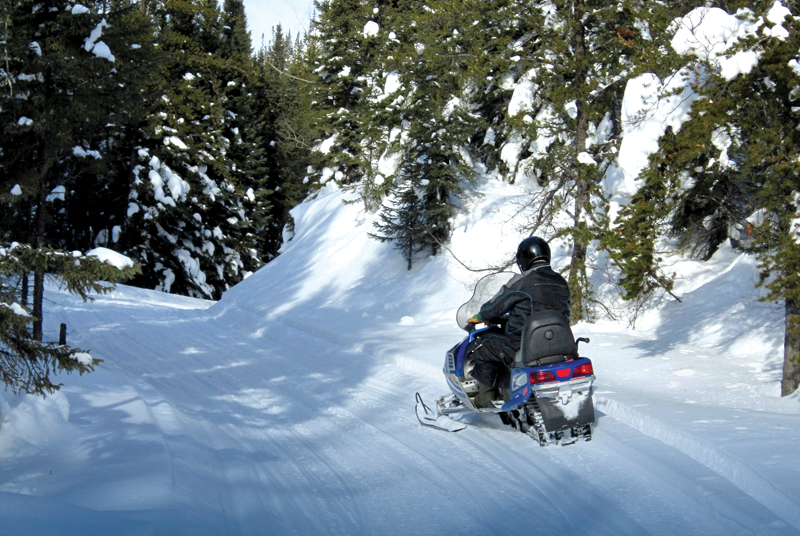 Western Maine is home to iconic snowmobiling areas like Rangeley, Bethel, and Eustis, classic New England villages, diverse accommodations, and exhilarating winter fun. Whether you're an experienced sledder or new to the sport, here are six great reasons to head north to Maine's Lakes and Mountains for a scenic snowmobiling adventure.
1. There Are Miles and Miles of Snowmobile Trails
Maine offers the best snowmobiling in New England, with more than 14,000 miles of trails, including 3,500 miles on the Interconnected Trail System (ITS). The Lakes and Mountains region, in particular, has more than 3,000 miles of easily accessed snowmobile trails that thread across snowy valleys and traverse mountains with forever views. It's possible to hop on ITS 89 in southern Maine and ride north for hundreds of miles on linked trails, passing Sebago Lake and Rangeley before reaching the remote Canadian border. Many of the trails are groomed, allowing for fast, safe snowmobiling, and riders can find services along the trails, including lodging and restaurants.
2. The Rangeley Lakes Region is Snowmobiling Central
The Rangeley Lakes region is snow central for Maine snowmobilers, with hundreds of miles of trails that thread through wild country. Many of the trails are part of the Ronald W. Sargent Trail System, which is maintained and groomed by the Rangeley Lakes Snowmobile Club (RLSC). The organization prepares 16-foot-wide trails with grooming tractors that flatten the trails at night, leaving a smooth surface.
One of Maine's premier snowmobiling trails is the 228-mile Black Fly Loop, which passes by Rangeley Lake and makes a wide loop around the Sugarloaf ski area and the Carrabassett Valley. Good side trips include the ride to Grand Falls, one of Maine's highest waterfalls, and the ascent of 3,791-foot East Kennebago Mountain, where you'll get impressive views. Plan your visit for late January so you can experience the annual three-day Rangeley Snodeo Winter Carnival, one of Maine's biggest snowmobiling events.
3. Classic Villages Offer Easy Access to Great Snowmobiling
Bethel, a picturesque New England village, lies on the Androscoggin River in the heart of western Maine's mountains. Blessed with plentiful snow, the Bethel region, including Sunday River Resort, Newry, and Grafton Notch, is an ideal destination for snowmobilers. The area offers more than 50 miles of groomed snowmobile trails and 100-plus miles of backcountry riding on local trails that pass through snowy mountains and skirt frozen rivers. Routes connect with the ITS, including the scenic 54-mile ITA 82 trail that runs from Rumford to rugged Grafton Notch and continues to the New Hampshire border and Trail 18.
For a fun ride, ascend the steep Mount Will Trail above Newry, which has a one-way-up and one-way-down route for safety. Other scenic rides are Local Trail 13 South, which climbs from Newry to an overlook with views of Sunday River Resort; Local Trail 13 in Gilead, which offers a long view down the Androscoggin River to Bethel; and the Grafton Notch section of ITS 82, which runs through the rugged Mahoosuc Range.
4. It's the Perfect Place for a Snowmobile Vacation
Instead of flying south for the winter like a snowbird, head north to Maine's Lakes and Mountains region for the winter vacation of a lifetime. Snowmobiling through fresh powder or cruising down well-groomed trails is the ultimate adventure to share with family and friends. The wide variety of trails in the region can accommodate riders of all ability levels, so everyone from beginners to experts will have fun and experience the camaraderie of riding on the open trail.
Because Maine has the largest snowmobile trail network in New England, you'll find a wide range of vacation possibilities, such as inn-to-inn rides and lodges and rental cabins that cater to snowmobilers. Before you book your vacation, check the best snowmobiling areas and call lodges and ask about the trail systems, suggested rides, and dining options. Many places offer full accommodations and take care of all the trail details and provide snowmobile rentals, warm clothes, and experienced guides.
5. State Parks Offer Access to Remote Trails
Several state parks spread across Maine's Lakes and Mountains region offer some of the area's best backcountry snowmobiling, with untracked trails, deep snow, and stunning scenery. Mt. Blue State Park has several excellent trails in the Center Hill and Mt. Blue areas that connect to local trails and ITS Trails 89 and 117.
Grafton Notch State Park and Mahoosuc Public Lands near the New Hampshire border protect some of Maine's most craggy mountains. The ride on ITS 82 from Andover to New Hampshire takes you through the spectacular scenery of the glaciated Notch, where you'll encounter frozen waterfalls and tall cliffs.
East of Eustis is Bigelow Preserve, which includes 36,000 acres of public land in the remote Bigelow Range. For one of the best rides in the area, begin in Eustis and follow ITS 115 around the northern edge of the Bigelows and continue to the southeast corner of Flagstaff Lake. Other state parks and public lands that allow snowmobiling include the 14-mile Whistle Stop Trail, Richardson Public Lands, Range Pond State Park, and Bald Mountain Public Land.
6. It's Easy to Hire Guides and Rent Snowmobiles
If you don't want to hassle with logistics, you can hire a guide and easily explore Maine's Lakes and Mountains on a snowmobile. Guided trips are perfect for beginner and intermediate sledders since guides not only lead you to the best trails and overlooks, but also offer riding lessons and outfit clients with clothing, including boots, bibs, and helmets. Plus, guides can acquaint you with trails for do-it-yourself adventures, and they'll share insider tips for finding the best lodging, restaurants, and brewpubs. Plenty of local outfitters also rent snowmobiles for an hour, half a day, or a full day, and they sell parts and fuel.
It's easy to see why Maine's Lakes and Mountains region is considered a mecca for snowmobiling. The vast trail system, the diverse terrain, the spectacular scenery, and abundant snow combine to create the ideal environment for sledding adventures. And, just as important, this is a place that actually caters to snowmobilers, so you'll have no trouble finding the resources you need to pull off a fantastic trip. If you're an experienced sledder, you'll revel in exploring one of the sport's bucket-list destinations. If you've never ridden before, you'll find that you chose the perfect place to take up a new thrilling activity and experience winter in a whole new way.
---
Written by Stewart Green for Matcha in partnership with Maine's Lakes and Mountains Tourism Council. Images: 1. @snowmob, 5. @magicallyflatyeticorn