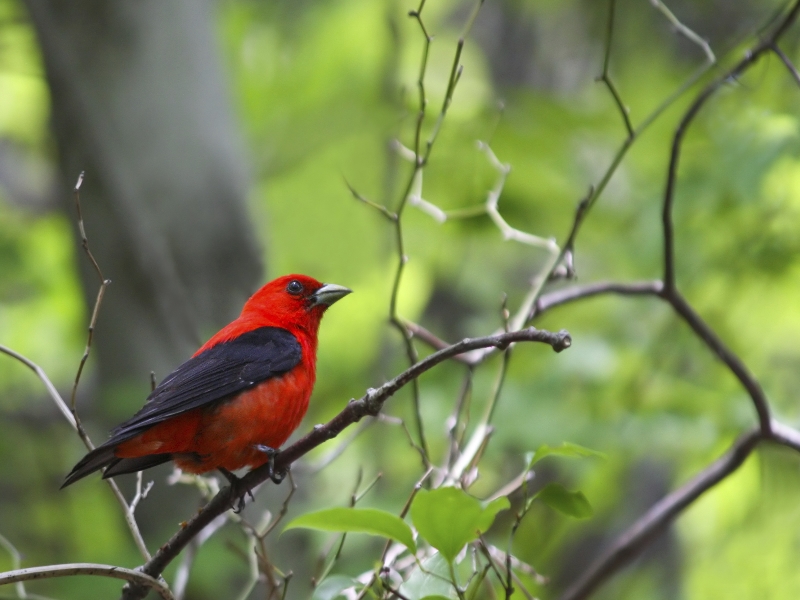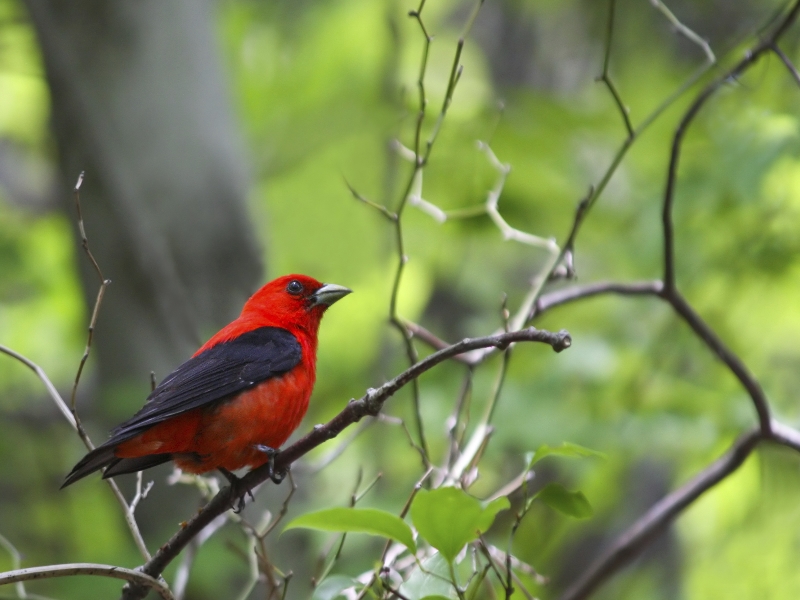 Birding
Bird Watching in Maine's Lakes and Mountains
It's not an easy task for birders to explain the allure of seeking out and observing wild birds in their natural habitat. Our advice is to give it a try. Maine's Lakes and Mountains is the ideal setting for experiencing the thrill of this popular hobby. Our forests, fields, and wetlands are worth investing time and energy in. We recommend visiting Sebago Lake State Park and the Brownfield Bog or the highly prized boreal forests of Grafton Notch State Park. Come in early July for the Rangeley Lakes Birding Festival and a chance to see and learn about birds that are difficult to find in other parts of Maine.
Birding Trails
Bald Mountain – Oquossoc
Numerous boreal species
Bigelow Preserve – Stratton
Bicknell's Thrushes (above 3,000 feet)
Boy Scout Road – Oquossoc
Boreal Chickadees, Gray Jays, and other northern birds
Brownfield Bog – Brownfield
Yellow-throated Vireos, Blue-gray Gnatcatchers, Least Bitterns, Wilson's Snipes, and Virginia Rails.
Grafton Notch State Park – Newry
Philadelphia Vireos, Peregrine Falcons, Boreal Chickadees, Black-backed Woodpeckers, and Spruce Grouse.
The Greater Lovell Land Trust – Lovell Common Warblers, Woodpeckers, and Flycatchers
The Heald Pond Preserve – Lovell
Common Warblers and Thrushes
Hunter Cove – Rangeley
Boreal Chickadees, Cape May and Blackburnian Warblers
Mingo Springs Trail & Bird Walk – Rangeley
Spring Warblers, Vireos, Woodpeckers, and Owls. Certified Audubon Cooperative Sanctuary.
Mt. Blue State Park – Weld
Hermit Thrushes, Winter Wrens, and Scarlet Tanagers
Rangeley Lake State Park – Rangeley
A variety of Maine's common songbirds
Sabattus Pond – Sabattus
Semipalmated, Least, White-rumped Sandpipers, Ruddy Ducks, Killdeer, and more
Saddleback Mountain – Rangeley
Bicknell's Thrushes
Thorncrag Nature Preserve – Lewiston
A variety of Maine's common songbirds
White Mountain National Forest – West Bethel
Moose, birds, and waterfowl
---
Code of Birding Ethics
Respecting the welfare of birds and their environments should always be a priority consideration of every birder. The American Birding Association has developed a code of ethics as guiding principles for birders.
-To avoid stressing birds or exposing them to danger, exercise restraint during observation, photography, and sound recording.
-Limit the use of recordings and other methods of attracting birds, and never use such methods in heavily birded areas for attracting any species that is listed as Threatened, Endangered, or of Special Concern.
-Keep well back from nests and nesting colonies, roosts, display areas, and important feeding sites. If there is a need for extended presence in such an area, try to use a blind or hide, and take advantage of natural cover. Use artificial light sparingly for filming or photography, especially for close-ups.
-Before advertising the presence of a rare bird, evaluate the potential for disturbance to the bird, its surroundings, and other people in the area. Proceed only if access is controlled, disturbance can be minimized, and permission has been obtained from landowners. The sites of rare nesting birds should be divulged only to the proper conservation authorities.
-Stay on roads, trails, and paths where they exist; otherwise, keep habitat disturbance to a minimum.
-Respect the law and the rights of others. Do not enter private property without the owner's explicit permission. Follow all laws, rules, and regulations governing use of the roads and public areas.
-Practice common courtesy in contacts with other people. Your exemplary behavior will generate goodwill with birders and non-birders alike.
---
Visitor Resources
Maine Audubon | Maine Birding Trail | Maine Department of Conservation's Bureau of Parks and Lands | Maine Department of Inland Fisheries and Wildlife | Maine's National Wildlife Refuges | Maine Professional Guides Association | Maine Wilderness Guides Organization