A Complete Guide to Canoeing and Kayaking in Maine's Lakes and Mountains
A Guide to Canoeing and Kayaking in Maine's Lakes and Mountains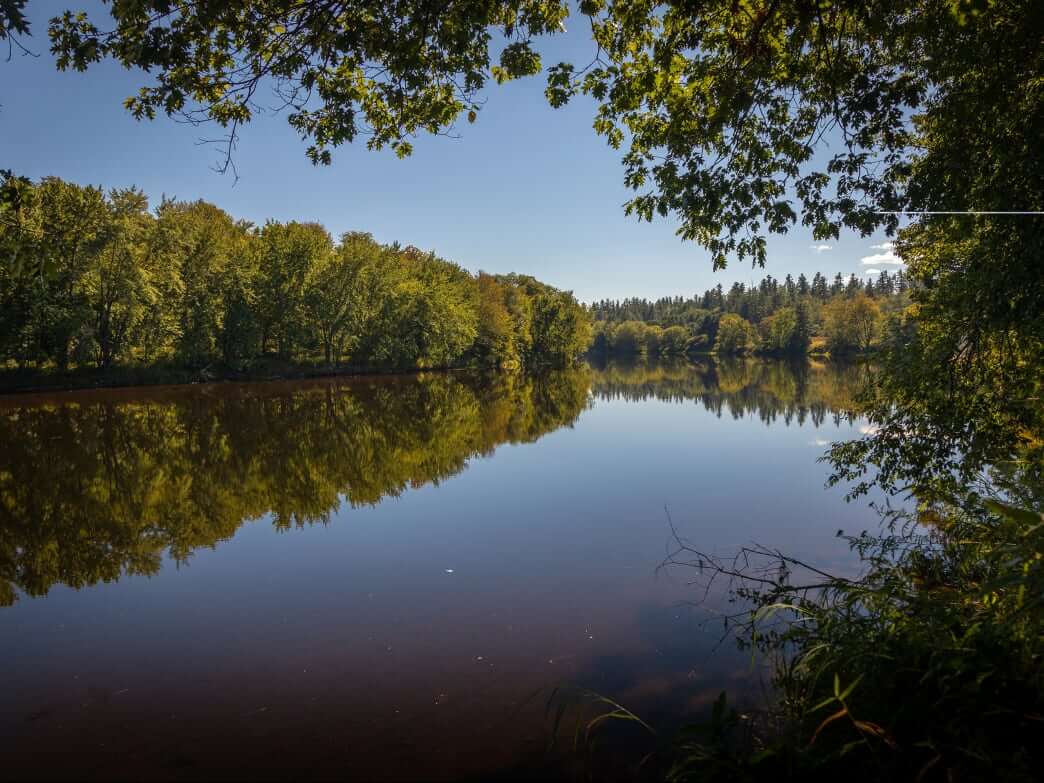 Many places in the country have been dubbed a "paddler's paradise," but Maine's Lakes and Mountains region truly lives up to the name.
The glaciated landscape is dotted with a couple thousand lakes and ponds connected by thousands of miles of rivers and streams that offer boaters a lifetime of watery adventures. Paddlers discover adventure, solitude, and camaraderie on Maine's waterways. Plus, they experience the pleasure of raw nature and the joy of dipping a paddle in a clear pond that reflects the sky, clouds, and mountains.
Whether you dream of roaring rapids or quiet lakes, you'll find your own idea of a paddler's paradise among Maine's Lakes and Mountains. Because the region offers such a great variety of waterways, you can put together the perfect trip for you and your paddling companions. Plus, there are plenty of outfitters and guides to help you organize your trip, travel safely, and make the most of your visit.
With its dozens of lakes and rivers, western Maine offers so many paddling options that you'll probably need some assistance to pick out the perfect destination. To get you started, here's a roundup of the top spots where you can tailor your trip to suit your abilities and schedule.

Bethel Rivers and Ponds
Paddling a canoe or kayak on the Androscoggin River or the ponds surrounding Bethel is an unforgettable Maine adventure. The classic village of Bethel, surrounded by postcard-worthy scenery, sits on a sharp bend of the twisting river, dubbed the Upper Andro by boaters.
Begin a perfect afternoon float at the ramp in Davis Park in town and paddle six miles north to a takeout at Newry. Or, start the morning by launching at the Gilead bridge and drifting 10 miles past wooded islands to Bethel. Watch for moose in the shallows and toss a line for trout.
A nest of ponds, including North, South, Twitchell, and Bryant ponds, lie southeast of Bethel. The clear lakes, ringed by tall pines and sun-splashed shorelines, are secret getaways for paddlers with quiet water and rocky coves. You can visit outfitters in Bethel to rent canoes, kayaks, and stand-up paddleboards. Plus, some outfitters offer shuttle services.
Sebago Lakes Region
Sebago Lake and the surrounding rivers are prime spots for paddling. Sebago, Maine's deepest lake, is 12 miles long and boasts 105 miles of shoreline. While the vast lake attracts powerboats and sailboats, Sebago offers plenty of open water for canoes and kayaks. Launch from Sebago Lake State Park and explore islands, coves, and inlets, or paddle onto the lake for a taste of sea kayaking.
For a more intimate experience, head to the many lakes and waterways near Sebago. Boat launch in Raymond allows paddlers to explore long, narrow Crescent Lake or drift a couple of miles down placid Tenney Stream to Panther Pond.
Northwest of Sebago is uncrowded Trickey Pond, a calm lake lined with towering trees. The 15-mile section of the Crooked River from Edes Falls to the Route 302 bridge is a fabulous kayak run with manageable rapids. For a leisurely paddle on flat water, try the section that passes through Songo Locks. Other excellent paddling destinations include Range Pond State Park, Thomas Pond, and Long Lake. Rent gear or hire a guide at Sebago Trails Paddling Co. for sunset, covered bridge, and moonlight kayak trips.


Saco and Androscoggin Rivers
The Saco River, rising in the White Mountains, offers western Maine's premier paddling adventure. You'll encounter crystal clear water, sand beaches, small rapids, and riverside camping. The 33-mile run from Fryeburg to Hiram is a great three-day paddle. Or, you can break it into shorter trips like the half-day run from Swan's Falls to Walker's Bridge.
Kayakers play in a couple of Saco rapids—Steep Falls and Limington Rips. The Saco's perfection makes it popular, especially on weekends, so try to visit on weekdays for peace and quiet. Outfitters like Saco River Canoe & Kayak prove rental boats and offer valuable river advice.
The 168-mile Androscoggin River in western Maine includes rapids as well as calm water, especially in its Mahoosucs section. The Andro twists for 37 miles through a broad valley from Shelburne Bridge to Rumford Boat Launch, offering fun paddling for kayakers and canoers. Dense woods line the river, which has scenic views and plenty of wildlife. At Rumford, the Androscoggin plunges 177 feet over Rumford Falls, the highest waterfall east of Niagara Falls, and bends south through Androscoggin Riverlands State Park before emptying into the Atlantic.
Dead River—New England's Toughest Whitewater Run
Whitewater enthusiasts rave about the Dead River, one of Maine's liveliest runs, with its 30 rapids in a 14-mile river stretch. The river, dropping 31 feet per mile, is best at high water after one of the eight annual upstream water releases with continuous Class II-IV water. Considered the best whitewater run in New England, the Dead River crashes through a succession of big rapids. You'll negotiate The Mine Field, Hayden's Rapid, Elephant Rock, dangerous Evil Nasty Hole, and finally Lower Poplar Hill Falls, the river's biggest rapid.
Spectacular scenery matches the heart-pounding adventure with low cliffs lining the river. The Dead is perfect for experienced kayakers and rafters, but novices can find plenty of outfitters that regularly guide the river. For an easier canoe trip, paddle down the North Branch of the Dead River. Put in at Eustis and float a couple of hours to the takeout at Cathedral Pines Campground.


Northern Forest Canoe Trail
The Northern Forest Canoe Trail stretches 348 miles across Maine, including a long section from Lake Umbagog on the New Hampshire border to Flagstaff Lake. This water trail offers a thrilling challenge and lifetime adventure on western Maine's biggest lakes, including Richardson, Mooselookmeguntic, Rangeley, and Flagstaff lakes, plus a couple of long stretches of the Dead River.
The best paddle trips on the trail include scenic Flagstaff Lake below the Bigelow Mountains, the twisting South Branch of the Dead River, and Mooselookmeguntic Lake, a quiet enclave with primitive camping, solitude, and open water.


Get Outfitted
If you don't own the essential gear to get on the water, it's not a problem. The Lakes and Mountains region is home to plenty of outfitters and shops that allow you to rent canoes, kayaks, and stand-up paddleboard, as well as life jackets. Many deliver the boats to the river launch, shuttle you back to your car after a trip, and offer boating lessons and tips. If you don't want to go alone, hire a certified Maine guide to get you safely down the stream.
When you paddle this part of Maine, you're venturing into remote, wild places so it's essential to be prepared. Dress appropriately for the season and remember that Maine's waters are often cold year-round. Wind can be your enemy, especially on big lakes like Flagstaff and Sebago. Pay attention to the forecast and get to shore if a storm is brewing.
It's a good idea to plan and record your intended route ahead of time and notify someone about the route and when you intend to return. And, remember, you should always wear a personal floatation device (PFD) in kayaks and canoes. (It's the law that children under ten years of age must wear a Personal Flotation Device on board all watercraft.)
---
Written by Stewart Green for Matcha in partnership with Maine's Lakes and Mountains Tourism Council and legally licensed through the Matcha publisher network. Please direct all licensing questions to legal@getmatcha.com. Images: Maine's Lakes and Mountains, @melakesmnts, @visitmaine/@thewildoutsiders