Cross Country Skiing & Snowshoeing
Cross Country Skiing & Snowshoeing in Maine's Lakes and Mountains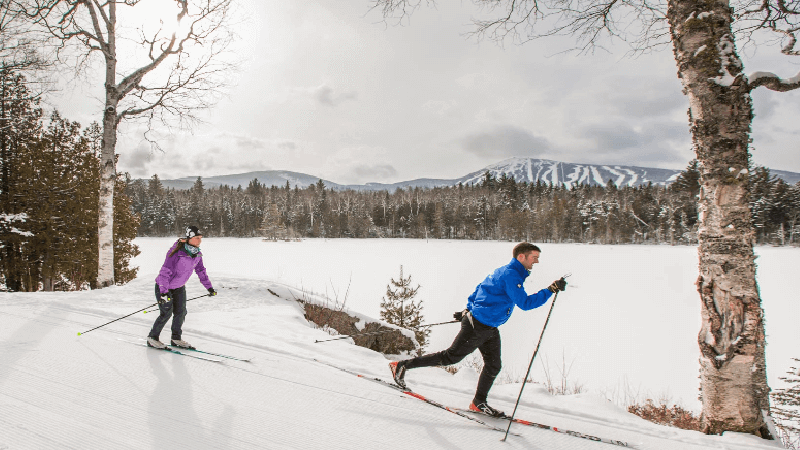 On a crisp, sparkling winter day, one of the most magical ways to take in Maine's Lakes and Mountains landscape is to venture out on cross-country skis or snowshoes. There are nearly two dozen commercial cross-country touring centers that offer beautiful well-groomed trails totaling more than 427km for skiers and snowshoe enthusiasts alike. Tour through our pine-scented forests, feel the sun's warmth reflecting off the snow, and listen for the chickadees in the clean crisp air.
The cross-country ski centers and winter guide services here offer gear and access to miles of trails, where you can discover the majesty of a snow-blanketed forest and the wonder of a bright-white expanse of meadow. For a truly unique experience, visit the Maine Huts and Trails system, an off-the-grid adventure of more than 70 miles of trails connected by four backcountry eco-lodges. For outdoor family fun, set off on the easy trails at Cathedral Pines Pathways off route 27 in Eustis and take in the towering pines while traversing a boardwalk covered bog with spectacular views of Bigelow Range.
If you'd like to break trail on your own, visit one of our State Parks or public reserved lands, where the land is open to public access. If you know you want to ski or snowshoe, but don't know where to start, contact a Maine Professional Guide for help in creating a memorable experience.
---
Trails and Nordic Centers
Inland Woods & Trails NSFR – Bethel Located at The Bethel Inn Resort, the trails provide visitors and members with cross-country ski, fat bike, and snowshoe trails, as well as rentals and lessons. Events include free ski programs for local schools, adult ski clinics, Bill Koch League for kids, NENSA programs, and annual events.
Black Mountain Ski Resort – Rumford Maine's third tallest operating mountain at 1380 feet , Black Mountain offers top to bottom night skiing with 70% snowmaking coverage. The mountain also features 17 kilometers of world-class Nordic trails and the Edge Tubing Park.
Carter's XC Ski Center – Bethel New England's premiere cross-country ski center, Carter's offers 55 kilometers of trails, including skating, classic and snowshoeing, backcountry, fat biking, rentals, and sales, plus views of Sunday River Resort across the valley, and the Mahoosuc and Presidential Ranges.
Five Fields Farm – Bridgton The trail system totals 27 kilometers. Looping around the orchards, it connects to logging roads and lands owned by abutters, including the Loon Echo Land Trust on Bald Pate Mountain. Trails are primarily one way, with bi-directional skiing only where necessary. Guidance is available to inexperienced, and the trail system is designed such that new skiers will rapidly be able to access all portions. Rental equipment in all sizes, including snowshoes, is available.
Lost Valley Touring Center – Auburn The Auburn Nordic Ski Association, a community-based club, is committed to the creation and maintenance of approximately 10 kilometers of cross-country ski trails at Lost Valley.
Maine huts & Trails – Kingfield With more than 73 kilometers of groomed cross-country ski trails, they offer one of the most unforgettable Nordic and backcountry skiing experiences in the Northeast. The huts are the perfect destination for a day trip or an ambitious multi-hut expedition. While the trails are groomed regularly, you should be prepared for true backcountry conditions.
Mt. Abram Ski Resort – Locke Mills & Greenwood Mt. Abram offers 1,150-foot vertical and 85% snowmaking. Snowshoers will find several beginner alpine trails with connecting traverses for easier climbing to the top of the old T-Bar. Many connecting trails follow old skidder roads through the mixed evergreen and deciduous forest, offering endless chances to create your loop trips of varying lengths.
Pineland Farms XC – New Gloucester Pineland has over 5,000 acres of beautiful woodlands and fields that are open to the public for various outdoor activities, including approximately 30 kilometers of professionally designed, well-kept trails for Nordic skiing and snowshoeing.
Rangeley Lakes Trails Center – Rangeley The center, set on lower Saddleback Mountain, offers 55 kilometers of immaculately groomed loop trails, a minimum of 14 feet wide, providing skating lanes and classic tracks on all sections, in addition to many kilometers of snowshoeing, fat-tire bike and backcountry trails. A 30-foot-round yurt serves as the ski lodge where ski rentals, wax, waxing benches, clothing, hot drinks, and tempting snacks are available.
Spruce Mountain – Jay This unique, community-owned mountain in central Maine features eleven trails, with snowmaking covering 50% of them. Enjoy a night of skiing under the lights, or take a tour around the cross-country ski trails.
SugarLoaf Outdoor Center – Carrabassett Valley The Outdoor Center offers cross-country skiing on 90 kilometers of the best-groomed trails in the East, offering a warm, comfortable lodge with magnificent views, skating rink, snowshoeing, and more. The Sugarloaf Outdoor Center is open for fat biking on select trails throughout the winter.
Titcomb Mountain – West Farmington Over 16 kilometers of beautifully groomed cross-country trails are suited to all levels, from beginner to expert.
---
Ski Shops
Backwoods, Auburn
Bob & Terry's, Bethel
Carter's Cross-Country Ski Shop, Bethel
Northern Lights, Farmington
Ski Depot, Jay
Ski Hot Ski Shop, Bridgton
Ski Thoma, Bethel
Skiers Edge, Auburn
Sportshaus Ski & Sport Shop, Bridgton
Sugarloafer Shop, Carrabassett Valley
---
Visitor Resources: Ski Maine | Maine Adaptive Sports & Recreation