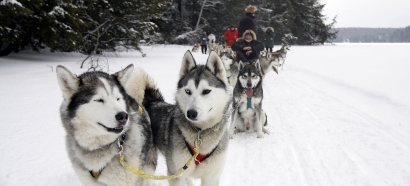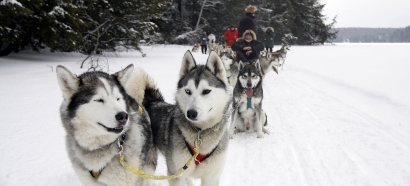 Dog Sledding
Dog Sledding in Maine's Lakes and Mountains
If you'd like to try something a little more adventurous than sledding and snow tubing, there are a number of outfitters that offer guided dogsledding tours. You'll feel like you're racing in the Iditarod as you weave in and out of tree lines, zip across open fields, and test your "musher" skills. The friendly tour guides will keep you well informed about this ancient method of travel, and the endurance and strength of the approachable dogs pulling you along will amaze you. This activity, varying from half-day adventures to overnight camping trips complete with lodging, meals, and equipment, will allow you to take in the breathtaking landscape of Maine in a completely unique way.
Meet the team of New England Dogsledding in South Oxford and hop on a 3-hour Wildlife Refuge Tour through the stunning White Mountain National Forest where you can take in the beautiful mountain scenery, or get your adrenalin pumping during a one-hour tour at Oxford's Ultimate Dog Sledding Experience, where the dogs are bred for racing and speed is the name of the game. If you want a genuine and authentic experience, Mahoosuc Guide Service offers native cultural trips up north with Cree and Inuit families, introducing guests to native guides and life in the arctic.
Whether you want to take it fast or slow, or if you're just looking for a one-of-a-kind experience, dogsledding is sure to be the memorable choice.