A Grand Intro to Fat Biking in Maine's Lakes and Mountains (And Why Everyone Should Try it)
A Grand Intro to Fat Biking in Maine's Lakes and Mountains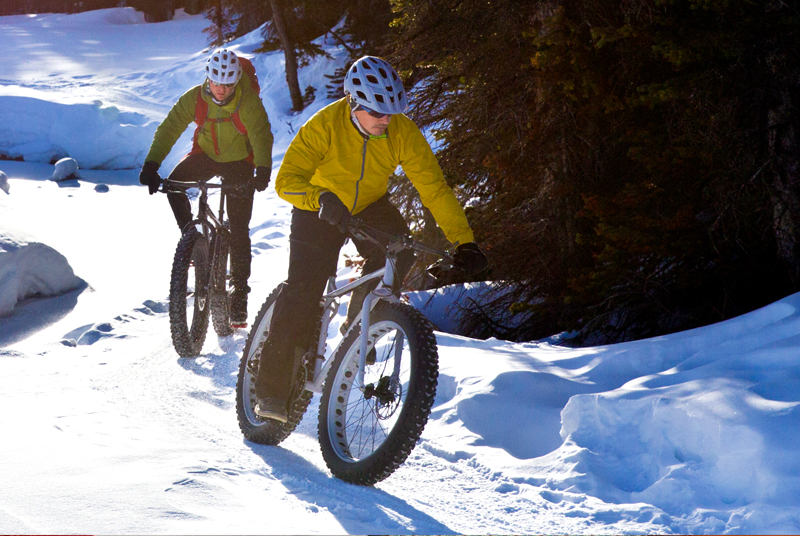 If you love mountain biking, fat biking might be your new favorite winter sport. Using bikes with huge, grippy tires, riders take to trails typically used by snowshoers and Nordic skiers. Throughout Maine's Lakes and Mountains region you'll find ideal fat biking trails that traverse through forests, snow-covered hills, and quiet lakes and streams.
March and April are the prime months for fat biking in Maine's Lakes and Mountains. The sport is an excellent alternative whenever trails get too icy or soft for skiing. One great thing about fat biking is that it's so easy to try. If you know how to ride a bike, you'll have no problem mastering it, and you don't need to own a fat bike because there are several rental shops in the region.
To help you map out a fat biking adventure, we've highlighted top trails in Maine's Lakes and Mountains area, locations where you can rent bikes. Plus, the region hosts several fat biking festivals where you can check out demos and even participate in races.
Before You Go
Snow conditions will affect your ride on a fat bike. Well-groomed trail systems are a fat biker's best friend—the harder the snow is packed, the better the ride. Avoid riding newly groomed trails that haven't had time to harden so that you don't create large ruts. Softer snow is fine, but if it turns into slush, stay in the track. When you rent your bike, be sure to consult a shop employee to ensure you have the proper tire pressure for the snow conditions you'll encounter.
Where to Ride: Bethel
Called "Maine's Most Beautiful Mountain Village," the tiny town of Bethel is home to spectacular trails that fat bikers share with Nordic skiers and snowshoers.
Bethel's Inland Woods & Trails
This network of trails almost shut down in 2016, but community intervention saved it. Nonprofit partnerships have since allowed expansion of the trail system, which includes easy and moderate paths made specifically for fat biking and snowshoeing.
Carter's X-Country Ski Center
As you explore Carter's X-Country Ski Center, you'll enjoy views of the Mahoosuc and Presidential mountain ranges. This family-run center in the hills of Bethel offers 34 miles of groomed trails as well as fat bike rentals.
Highwater Trail Loop
Experienced bikers will love the 15-mile Highwater Trail Loop, which skirts the Wild River. Start with the easier portion of the loop and follow a graded road on the river's south side. Then, continue the loop by crossing the Wild River and following the tougher, singletrack section.
Where to Rent: Bethel
At Inland Woods & Trails, your rental fee includes a bike and helmet from Barker Mountain Bikes. If conditions aren't safe, some trails will close, so check the Woods & Trails website prior to your outing for trail conditions. You can also rent fat bikes at Carter's XC Ski Center.
If you're heading to the Highwater Trail, visit Barker Mountain Bikes in Bethel to get a fat bike, helmet, and trail report all in one stop.
Where to Ride: Carrabassett Valley
Tucked in Maine's western mountains, Carrabassett Valley is home to the state's largest ski resort, Sugarloaf Mountain Resort. With only about 780 year-round residents the valley's snowy winters draw skiers and a growing number of fat bikers.
Maine Huts & Trails, Route 27, Stratton Brook Trailhead, Carrabassett Valley
Stretching more than 80 miles, the Maine Huts & Trails system allows you to take a hut-to-hut bike tour in winter. You'll enjoy great cuisine and comfortable accommodations at the huts. Bike while your luggage is transported. If you're new to fat biking or you want to take it easy, follow the groomed Narrow Gauge Pathway between Poplar Hut and Stratton Brook Hut. For a bigger challenge, experienced riders can take singletrack and double track trails north to Grand Falls Hut.
Sugarloaf Outdoor Center
While Sugarloaf is best known as an alpine ski resort, the Sugarloaf Outdoor Center now offers fat biking seven days a week on select trails at its Nordic center. Located just minutes from the ski resort, the Nordic center has groomed, picturesque trails that wind through the woods.
Where to Ride: Rangeley
Located in the heart of Maine's Rangeley Lakes region, the town of Rangely serves as a base camp for exploring six major lakes and hundreds of smaller ones. Winter brings high-altitude snow for excellent fat biking on groomed trails.
Hugging Saddleback Lake, the Rangeley Lakes Trails Center offers about 30 miles of Nordic trail that are accessible to fat biking in winter. Great for beginners, these looping paths are well groomed, including some sections of singletrack.
Where to Rent: Rangeley
Learn all about fat biking at AJ's Fat Bikes, which specializes in the sport. Located on Main Street in Rangeley, AJ's can recommend fat biking trails, provide rental bikes, or give your bike a tune.
Where to Ride: New Gloucester
A classic New England town, rural New Gloucester is home to the world's only still-active Shaker community, stunning farmlands, and a beautiful village to explore, and fantastic trails for fat biking.
A 5,000-acre working farm property, is home to rolling woodland trails open to the public year-round. An increasing number of fat bikers are exploring the snowshoeing trails that wind through this stunning farm country. With loops that measure anywhere from a half-mile to nearly four miles, there are great options for beginner, intermediate, and advanced bikers.
Where to Rent: New Gloucester
Pineland Farms Outdoor Center has a fleet of fat bikes, and for $30 you can get a trail pass and rent a bike and helmet for two hours.
Where to Ride: Poland
Poland Springs Resort
This quintessential Maine town is home to Poland Springs Resort and bottling of the famous water still occurs on the northeast side. Historic structures like the old Maine State Building, a relic from the 1893 Chicago World's Fair, add to the area's charm. Fat biking trails are only about 5 miles from town.
Range Pond State Park
At Range Pond State Park you'll find singletrack loops suitable for intermediate bikers and easier doubletrack sections winding through pine forest. In winter, skiers, snowshoers, and fat bikers use these rolling trails—so watch for other users. During the winter, the gate providing access to trails is closed on Tuesday and Wednesday, but you can still use the trails if you park outside the gate. An entrance fee is required year-round.
Where to Rent: Poland
Busytown Bikes, housed in an old bakery, offers rentals of entry-level and mid-level fat bikes. You can also rent fat bikes for a day or for a week at Rainbow Bicycle in nearby Lewiston.
Fat Bike Events in Maine's Lakes and Mountains
When you're ready to try fat biking in Maine's Lakes and Mountains region, consider planning your trip to coincide with a winter biking event. It will give you a chance to tap into the expertise of local riders who can share their knowledge of gear and local places to ride. Plus, you can participate in fat bike competitions. In January, the Rangeley Lakes Trail Center will host its annual Fat Bike Loppet, a race with aggressive hill climbs, fun descents, and wide straightaways on a mix of singletrack and wide, groomed trails. If you don't have your own bike, rentals are available.
Held in February, the Fat Tire Race & Festival at Sugarloaf includes fat tire races, an adventure ride, and fat tire bike demos. As you ride the local trails you can stop at huts to grab lunch.
Another great February event is Snowmaggedon at Woods & Trails. The gathering centers around two fat bike races. The 6- to 8-mile short course can be done in an hour. The more challenging 12- to 16-mile course. After the race, refuel with lunch and beer at Millbrook Tavern.
Whether you're eager to compete in a fat-biking race, or you just want to try the sport for the first time, you can find the perfect trail in Maine's Lakes and Mountains. Plus, you'll have no trouble renting equipment and getting advice from experienced locals. Because fat biking is fairly easy to try, the sport is becoming more popular providing another fun way to spend time outdoors and stay active in winter.
---
Written by Jenny Willden for RootsRated Media in partnership with Maine's Lakes and Mountains Tourism Council. Images: @bethelvillagetrails, @tomcromwellcv, @pinelandfarms, @busytownbikes