How to Have an Unforgettable Winter Hut Trip in Maine's Lakes and Mountains
A Guide to Having an Unforgettable Winter Hut Trip in Maine's Lakes and Mountains
Imagine skiing or snowshoeing along a groomed track through Maine's wild woods, climbing to ridge-top views, gliding along icy rivers, and at the end of the day reaching a cozy hut to enjoy a hearty, locally sourced meal, great company, and a warm bed. It may sound like a dream, but you can make it a reality with a journey along Maine Huts & Trails multi-use, recreational trails, and waterways in Maine's Lakes and Mountains region.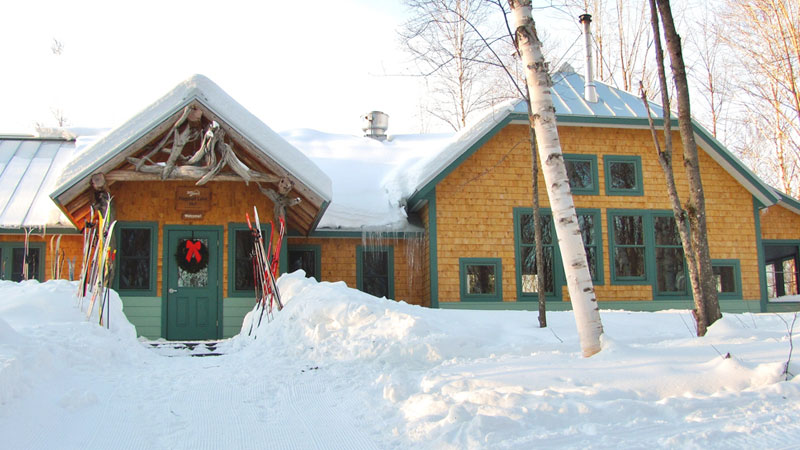 The nonprofit organization operates eco-friendly lodges scattered along an 80-mile trail network in the state's northwestern wilderness, stretching from Sugarloaf in Carrabassett Valley to the small town of West Forks. The well-marked trails are perfect for a first-time backwoods adventure on cross-country skis or snowshoes, passing scenic overlooks, frozen lakes, and side trips to waterfalls. During your journey along the well-marked trails, you can stay in four comfortable huts and make the most of your trip with ski lessons and guided backcountry trips. Plus, the friendly staff members of Maine Huts & Trails will make sure each hut feels like a home away from home.
Waiting for you at the end of each day on the trail is an off-the-grid hut. But, the term "hut" can be a little deceiving, because these are far from crude cabins. Instead, they're incredibly inviting, sustainable lodges with electricity provided by an array of "green" technologies. Plus, each hut has a radiant floor system warmed by a wood gasification boiler, indoor composting lavatories, hot showers, and a drying room. A gracious staff serves dinner and local craft beer and wine at night, breakfast in the morning, and provides a bagged "trail lunch" for you to take along as you continue your journey. The huts are "screen-free," meaning visitors are encouraged to stash their phones and chat with other guests, read a book, or play board games.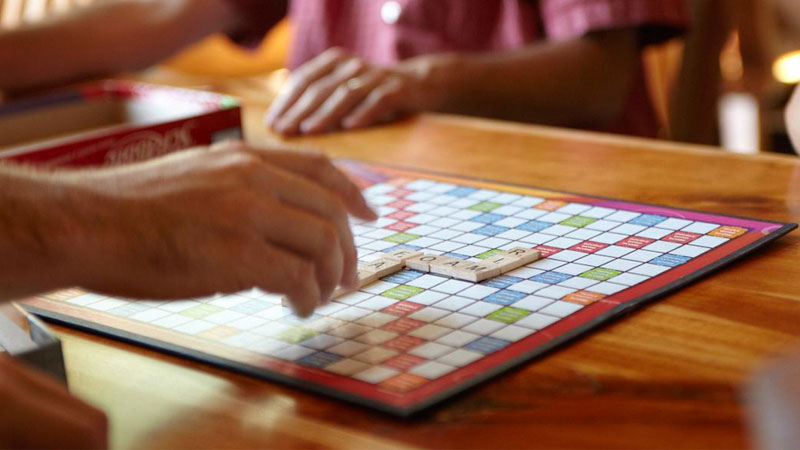 If you've dreamed of taking a winter hut-to-hut adventure, there's no better or easier place to do it than Maine's Lakes and Mountains region. And the following insider info will give you a good idea of what to expect and offer tips on making the most of your journey.
Know Before You Go
From Portland, Maine, you can reach the Maine Huts & Trails system easily by driving 100 miles north to Carrabassett Valley. The four huts—Stratton Brook, Poplar, Flagstaff, and Grand Falls—are spaced along trails you can access from seven trailheads.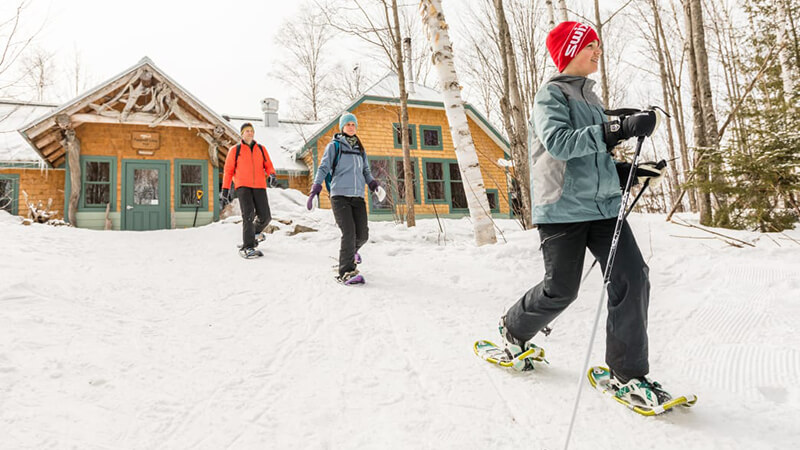 Many winter enthusiasts do the entire hut-to-hut trail in five days and four nights, while others ski to a hut and use it as a basecamp to explore the surrounding terrain on day trips. Grand Falls, the most remote hut, offers a private experience, while the easily accessible Flagstaff Hut is popular with people doing one-night trips.
Planning Your Hut-to-Hut Adventure
On the Maine Huts & Trails website, you can easily to plan a two-day adventure where you ski between a couple of huts and then catch a lift back to your car. When you're on the site, you can build a family-friendly or adults-only adventure by first finding out which winter activities appeal to your group, including skiing, snowshoeing, fat-tire biking, family fun, and wildlife study. Then, determine the adventurer style of the group—Relaxed, Enthusiastic, or Trailblazer—and decide on an itinerary from suggested trips.
You'll also find a packing list for winter gear, extra clothes, and a basic self-rescue kit as well as recommendations if you need to rent skis or snowshoes. While you can ski the trails between December and late March, the best season is March when you'll enjoy warmer temperatures and longer days.
A Typical Day on the Trail
A day on the trail begins with a mug of steaming coffee and an assortment of entrees made from locally sourced ingredients including pancakes, frittatas, breakfast burritos, and oatmeal. (Vegan options are also available.) After packing up, you'll strap on your skis or snowshoes, or climb atop your fat bike and head off through stands of cedar, pine, and white birch to the next hut. It's best to get an early start since the huts are a day's human-powered journey apart with distances ranging from 7-14 miles.
If you don't want to carry a heavy pack, go light by having your luggage shuttled by caretakers to the next lodge. The clean ski tracks, groomed regularly throughout the week, are fast and easy to follow through this winter wonderland, while side trails take you to mountaintops and lofty viewpoints.
Even if you don't have a ton of backcountry skiing experience, you'll still be able to easily navigate the trail network. The well-marked, groomed trails are perfect for self-guided novices using classic skinny skis or snowshoes. The trails are designated with color-coded markers, making them easy to follow, and traverse gentle terrain with occasional uphill sections and short downhills. Along the way, you'll skin through pristine forests and enjoy fabulous scenery. With its cozy lodges, moderate trails, and easy access from major cities in both the U.S. and Canada, Maine Huts & Trails is simply the best hut-to-hut winter adventure in North America.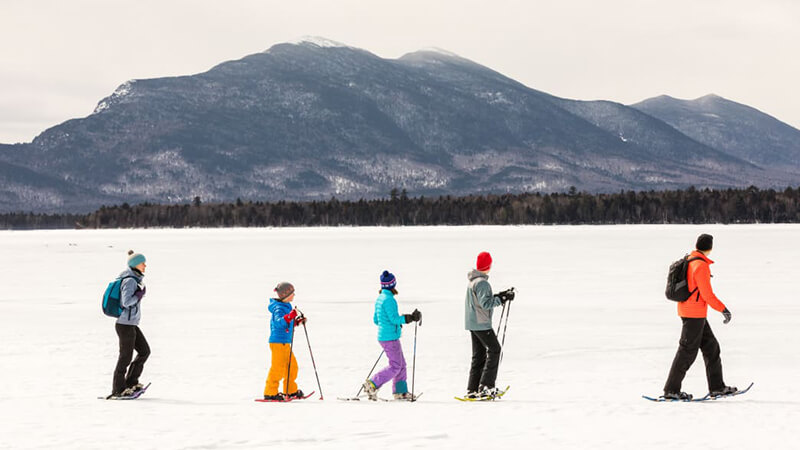 Share a meal and stories of the trail
At the end of the trail each day, you'll be welcomed to a spacious lodge, glowing among snow-laden trees. Inside is warmth, good company, a drying room for damp clothes, and hot showers. Using local produce and sustainably raised meat, the hut staff will prepare a family-style evening meal that's served in a dining room. You can enjoy delicious entrees like shepherd's pie, burritos, pumpkin pasta, and vegan sloppy Joes, accompanied by salads and cornbread, with cupcakes and carrot cake for dessert. Sharing stories and experiences with other people around the dinner table or in the lodge library are one of the best parts of the Maine hut experience. You'll find plenty in common with fellow adventurers and make new friends. You can spend the evening chatting around a wood stove or playing games before retiring to a simple bunkhouse for a quiet night.
Guided Adventures
If you don't want to head into the north woods alone, hire a certified Maine guide that partners with Maine Huts & Trails. Allagash Canoe Trips and Outdoor Guide Adventures offer a wide range of winter experiences, including Learn to Ski classes, a Women's Only Ski Adventure, Grand Falls Exploration, Full "Wolf" Moon Snowshoeing, yoga retreats at Poplar Hut, and guided multi-day hut-to-hut tours. Book directly with the outfitters or visit the Maine Huts & Trails website for more information.
---
Written by Stewart Green for Matcha in partnership with Maine's Lakes and Mountains Tourism Council. Images: Maine Huts & Trails