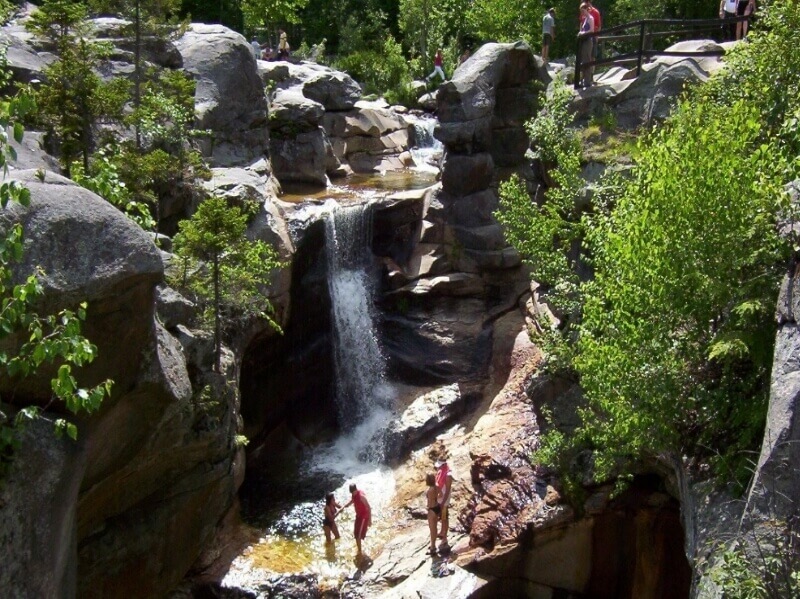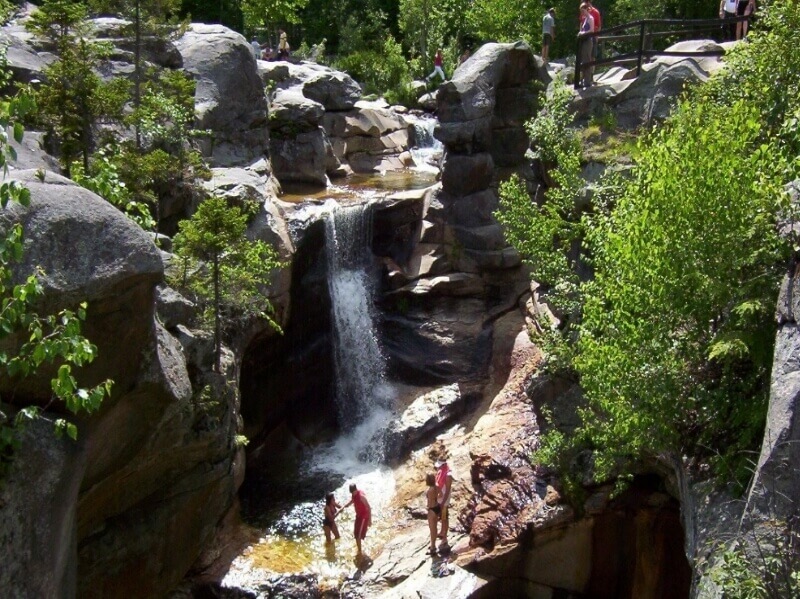 Hiking in Bethel
4 Hiking Experiences Near Bethel
The mountains of western Maine are covered with pine and deciduous trees and trails that climb steeply. Here are four hiking experiences in and around Bethel.
1. Androscoggin River Recreation Trail
The river is a great natural resource for all to enjoy the beauty of wildlife in its natural habitat. A sampling of some of the wildlife that has been spotted along the river trail; bald eagle, great blue heron, various species of wild ducks, cormorants, osprey, hawks, Canadian geese, many species of birds, muskrat, whitetail deer, moose, groundhog, fox, coyote, otter, mink, and many others.
Access to the trail can be obtained from behind the River View Resort or the D.O.T. Rest Area on U.S. Route #22 about 3 miles east of Bethel. If access is made from the River View Resort, please check in at the office. Do your part to keep the trail clean and natural – please keep your pets on a leash and no motorized vehicles.
2. Moose Cave Gorge
Located less than a mile beyond Mother Walker Falls in Grafton Notch State Park, Moose Cave Gorge offers a 1/4 mile nature walk mixed with flora and legend. The cave consists of a 45 foot deep gorge in granite bedrock that appears to have formed in a fault zone. The 200 foot long gorge has, at its upstream, a comparable length of huge boulders in the river channel, over and around which the river flows. The Bureau of Parks and Recreation maintains excellent trails throughout the area.
3. Mother Walker Falls Gorge
This nature walk and geological exhibit is a V-shaped gorge about 980 feet long and upwards of 43.6 feet deep. Located 3/4 mile beyond Screw Auger Falls in Grafton Notch State Park, the gorge also has a series of cascades with a total drop of 98 feet. Like Screw Auger Falls, this gorge has a natural bridge composed of granite bedrock, the only two in Maine.
4. Wight Brook Nature Preserve (Step Falls)
A long series of steep cascades and chutes with a total drop of 135 feet. There is a short hike up the right side of the falls (Wight Brook), which tumbles down a series of boulders and step-like ledges. Take along a bathing suit or cut-off jeans to slide and swim in the pools. Located approximately 8 miles north of Bethel off Route 26, look for a dirt road that crosses a small grassy area with parking under the pine trees. Its approximately 1/2 to 3/4 miles up to the brook. Please take in plastic drinking containers, and please carry out all that you carry in.
Since there are too many great trails to list, we encourage you to use Maine Trail Finder, a free online resource for people-powered trails in Maine. Search a growing database of four-season trails to find the right trail for your next adventure. Browse interactive trail maps, trail descriptions, pictures, and trip reports.