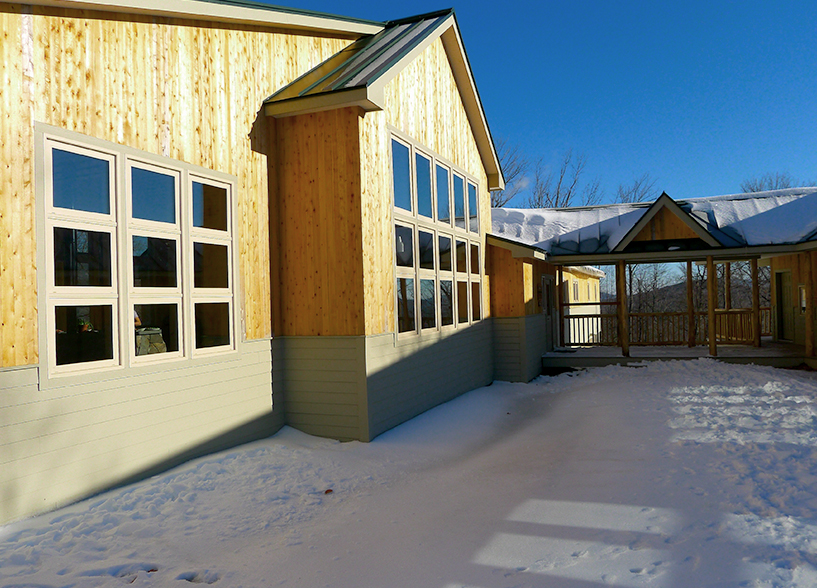 x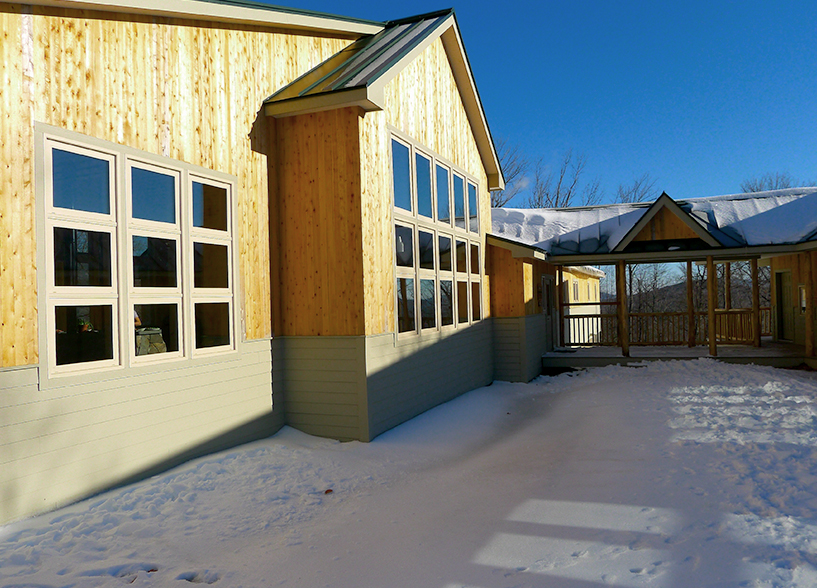 Maine Huts & Trails
Maine can be intimidating. We know and we're sorry. Deep woods. Unpredictable weather. We're a state that prides itself on our craggy coast, seasoned islands, rugged trails and an even more ruggedized people. We're like that estranged uncle you meet at a family reunion — you know, the interesting one with all the scars? Somehow you ended up at his picnic table and you can't believe you've missed out on so many family stories and secrets for all these years.
Maine Huts & Trails makes it a little easier to get to know us. The nonprofit brainchild of Larry Warren, founder and previous president of Sugarloaf Mountain, Maine Huts & Trails is a low-impact four season trail and hut network that covers over 80 miles of trails in Western Maine, with four established "huts" and plans for more. But this unassuming outdoor honey-hole redefines ecotourism. Huts are not huts. They have radiant floor heating, toilets, and beer on tap. Trail food is more than subsistence. Hut staff (yes, the huts have hearty staff and full kitchens) use ingredients like maple sugar and almonds. With a main lodge and separate bunkhouses, they can accommodate larger groups or a couple looking for a comfortable outdoor getaway. And the trail network itself is a backwoods superhighway for outdoor junkies of all degrees and varieties. This is real Maine, made accessible.
I had visited the huts last year with some friends, snowshoeing in from the Gauge Road/Poplar Trailhead. Carrabassett Valley is a familiar winter destination — Sugarloaf was one of our go-to ski spots growing up. I had even looked down on the valley from the Bigelows while co-leading a hiking/sea kayaking trip for a Maine-based outdoor adventure camp for girls while I was in college. But the trail network and concept of "luxury" eco-huts was new to me. I wasn't sure what to expect.
It was snowing during our first short trek to the Poplar Hut and had been for a couple days — fat flakes that accumulated on tree limbs and carpeted the backcountry corridor. But two clean ski tracks remained etched in the right side of the trail as evidence of recent trail grooming and use. While on the main trail, cross-country skiers of all speeds and ages skated by us. We deviated off the main trail to check out a hiking trail that promised waterfall views, and by the time we re-joined the main passageway and got within viewing distance of the hut, the snow had picked-up quite a bit. My view of Poplar was shrouded in snow, but I knew I was in the right place when I opened the door and warmth radiated from within. The main lodge was two-tiered, complete with a kitchen, composting toilets, and an attached bunkhouse.
More recently, we visited the Narrow Gauge Trailhead to the Rt. 27/Stratton Brook Trail. This is a dog-friendly section with a parking lot populated with a healthy mix of Maine and out-of-state plates. Locals use the trail as their backyard dog run, with excited dogs (including our own!) bounding alongside skiers, stopping for the occasional friendly butt-sniff of another passing pooch before kicking up snow to catch up with their owners. Non-dog owners are able to visit the beautiful Stratton Brook Hut, which is about three miles from the trailhead. Since we brought our pup Pemi with us, we took advantage of the dog-friendly groomed section before skiing the ungroomed mountain bike trail that runs parallel to the Carrabassett River. I was once again reminded that this region is a rare year-round mecca for fresh air lovers everywhere.
Editor's Notes
Outdoor enthusiasts will naturally feel the allure of Carrabassett Valley with its endless parks, bike trails and mountains. Recharge your spirit in one of the huts and then hit the trail when you're itching for adventure.
Soak in the beauty of Maine on the Narrow Gauge Pathway. 6.6 miles long, this path winds along the banks of the Carrabassett River. Hike, bike or walk on the stone-crushed surface of the trail and cool your feet off in the river when you need to catch your breath.
Keep the adrenaline pumping. Hike Mount Bigelow, where the highest summit, West Peak, reaches 4,145 feet. Then play and stay at Sugarloaf, Maine's tallest winter resort with a 4,237-foot summit and the largest ski area east of the Rocky Mountains. Offering restaurants, like 45 North, that specialize in Maine comfort foods, it's the perfect place to hit the slopes and then cozy up with a warm meal.
For additional ideas to keep you running around Maine all year long, discover boundless recreational possibilities and activities.
The Maine chapter of the Appalachian Mountain Club also maintains several huts, lodges and cabins along the Appalachian Trail, including the historic Gorman Chairback and Little Lyford Lodges in the 100-mile wilderness. In winter, backcountry skiers can enjoy a hearty, homemade breakfast at Gorman Chairback, pack a lunch, strap on their skis and end the day relaxing in Little Lyford's sauna.