Peak Bagging in Maine's Lakes and Mountains: How to Summit 10 of Maine's 4,000-FT+ Peaks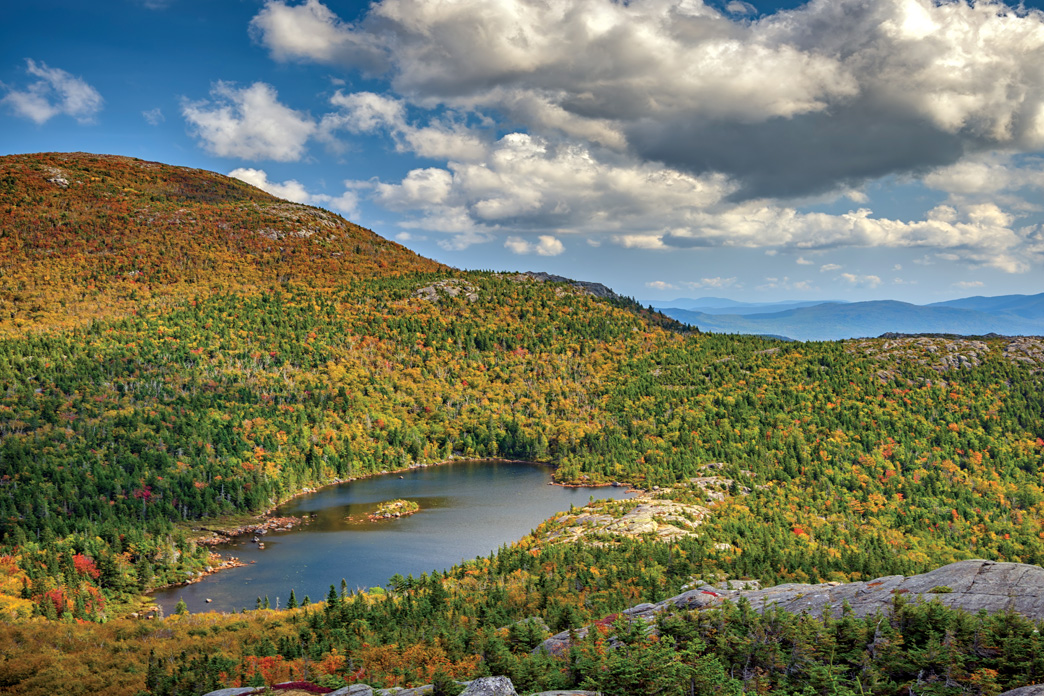 If you love to bag peaks, you're going to be thrilled when you visit Maine's Lakes and Mountains. Boasting the state's highest concentration of mountain peaks over 4,000 feet, baggers come here to summit as many as possible. Whether you're looking for an easier summit to check off your list or a challenging, grueling climb, you'll find it in one these 10 high-peak hikes in western Maine.
1. Sugarloaf Mountain
Elevation: 4,240 feet  Distance: 6.4 miles round trip
Most peak baggers in Maine have Sugarloaf Mountain on their bucket list. While Sugarloaf is best known for its skiing, it's a perfect summer summit after the snow melts, and it's accessible via the famed Appalachian Trail. Take Caribou Pond Road (AKA Caribou Valley Road) to reach its junction with the Appalachian Trail. (Take note, the conditions of Caribou Pond Road can vary greatly due to lack of maintenance and weather.)
On the AT you'll cross the Carrabassett River, and then begin the real work with a 0.75-mile, 800-foot climb on a rocky ledge outcropping. Once you're beyond this section, you're exposed to the elements (bring a rain jacket) and are treated to views of the Carrabassett Valley. Continue on the AT to hike the final half-mile through a rugged, rocky forest. After 2,229 feet of elevation gain, enjoy surrounding mountain views from the top before returning the way you came.
2. Old Speck Mountain
Elevation: 4,180 feet  Distance: 7.6 miles round-trip
Coming in at number three on the Pine Tree State's tallest peak list, Old Speck tops out at 4,180 feet and is located near the town of Newry in Grafton Notch State Park. The steep, standard route to Old Speck's summit is along the white-blazed AT and showcases a waterfall along the way. When you complete the climb you're rewarded with views of the Mahoosuc Mountain Range.
The final stage of the AT for thru-hikers, this 3.5-mile path follows Cascade Brook before spurring onto a 0.3-mile trail leading to the summit. At its summit the mountain is forested, meaning you'll find the best view by climbing the fire tower to see the surrounding mountains and Speck Pond far below.
3. (and 4) Crocker Mountain & South Crocker Mountain
Elevation: Crocker 4,228 feet, South Crocker 4,050 feet  Distance: 5.2 miles round-trip
Check Maine's fourth highest peak off your peak-bagging bucket list at Crocker Mountain in the Carrabassett Valley near Stratton. The only trail to the summit here is the Appalachian Trail, which can be accessed via the easier Caribou Pond Road (aka Caribou Valley Road) approach or Maine State Route 27.
Beginning at Caribou Pond Road, you'll find the trip up South Crocker is relatively easy, compared to the ascent up other 4,000-foot peaks in Maine. The trail climbs 2,800 feet over 5.2 miles and offers a gradual incline that's very doable. For a bonus peak, take a one-mile connector trail to Crocker Mountain, and then retrace your steps to return to your vehicle.
5. Bigelow: West Peak
Elevation: 4,145 feet  Distance: 11.6 miles round-trip
The Bigelow Range stretches 12 miles and is made up of six peaks. The trail to Bigelow's West Peak begins near the town of Stratton, and the shortest route to the top begins at the Stratton Brook Campsite parking area on Stratton Brook Pond Road. Follow Fire Warden's Trail for 4.6 miles, hiking along Stratton Brook Pond before climbing a ridge and hanging a left at the junction with Horns Pond Trail. From here, the trail steepens, rising nearly 1,500 feet to where you'll connect with the AT. Take a right onto the AT and hike 0.3 miles to summit West Peak. Expect stellar views of Avery Peak, the surrounding horns, and the vast forest below.
6. Bigelow: Avery Peak
Elevation: 4,088 feet  Mileage: 10 miles round-trip
Set along the southern shore of Flagstaff Lake, the Bigelow Range is named for Major Timothy Bigelow, a man who climbed the summit in 1775—just to have a look around. Bigelow features many peaks you can summit, but only two—Avery and West Peak—rise above 4,000 feet. Avery is the smaller of the two at 4,088 feet. To reach Avery Peak, begin at the Stratton Brook Campsite and follow the Fire Warden's Trail for 4.6 miles. At the junction with the Horns Pond Trail, turn left and continue up granite stairs that ease the ascent as you climb the steepening trail to Avery Col Campsite. From the campsite, turn right to take the AT 0.4 miles to the rocky summit of Avery Peak. Soak in the views of Maine's wilderness and manmade Flagstaff Lake from above before returning the way you came.
7. Saddleback Mountain
Elevation: 4,116 feet  Distance: 4 miles round trip
This 4,116-foot peak is a fun summit with views of Rangeley Lakes, Saddleback Lake, and Winship and Conant Streams on a clear day. In summer, most take the Grey Ghost Trail from the base of Saddleback Mountain to bag this peak. Follow the line of a green chairlift up before connecting to the AT for an easy amble to the wide-open summit and panoramic views of the lakes below.
8. The Horn
Elevation: 4,023 feet  Distance: 7.2 miles round trip
An easy add-on to a Saddleback Mountain day hike, The Horn tops out at 4,023 feet, and its summit offers vistas of surrounding peaks. To reach The Horn, follow the previous directions to the summit of Saddleback Mountain. From the Saddleback summit, travel northeast on the AT for 1.6 miles to reach the summit of The Horn, which is attainable year-round. The ridge offers gorgeous views of the ski resort and surrounding area on clear days, but it can often be foggy on top.
9. Mount Abraham
Elevation: 4,049 feet  Distance: 8 miles round trip
Playing host to the second largest alpine zone in Maine (after the granddaddy of Mount Katahdin), the bald summit of Mount Abraham is easy to spot on a clear day from the base and is found near the town of Kingfield. To hike it, follow the challenging Mount Abraham Trail (also known as the Fire Warden's Trail) for four miles to the summit.
Expect a gradual climb for the first two miles through the forest to the site of an old, burned-down ranger cabin. You'll then face a steeper trek for the final two miles. Lush forest, river crossings, and rocky trails continue before opening to vistas of neighboring peaks. Follow the rock cairns to stay on-trail for the final scramble to the summit where an old fire tower and windy conditions mark the spot. If you pay close attention, you'll also see a neat stone shelter built right into the talus.
10. Spaulding Mountain
Elevation: 4,010 feet  Distance: 15.2 miles round trip
Tucked between Sugarloaf Mountain and Mount Abraham, this summit can be climbed via the AT or the ski trails of Sugarloaf Mountain Resort. It's a quick add-on to a hike of Mount Abraham if you want a two-fer from your efforts.
Follow the Fire Warden's Trail to Mount Abraham, then follow the Mt. Abraham Side Trail 1.7 miles to connect to the AT. Follow it for 1.1 miles to Spaulding Campsite, and then continue 0.8 miles to reach the summit. Spectacular 360-views make this a favorite 4,000-footer for many peak baggers.
For many hikers, few things are more rewarding than standing atop a mountain after a challenging trek and reveling in the reward of a stellar view. In Maine's Lakes and Mountains region, peak baggers will find an abundance of peaks to challenge their stamina and reward their souls. Just be aware that climbing mountains in western Maine can be a risky pursuit thanks to fast-changing conditions and frequent storms. Always summit early, carry appropriate gear, and turn back if conditions get dicey.
---
Written by Jenny Willden for RootsRated Media in partnership with Maine's Lakes and Mountains Tourism Council. Images: 1 & 10. @jordanshowsmith,