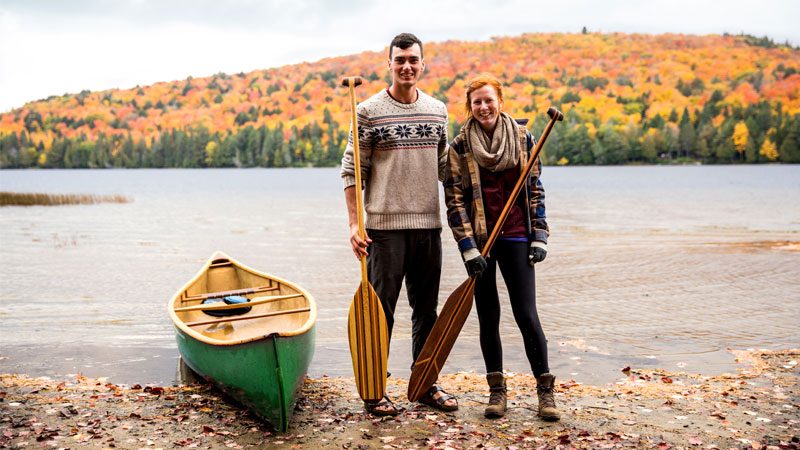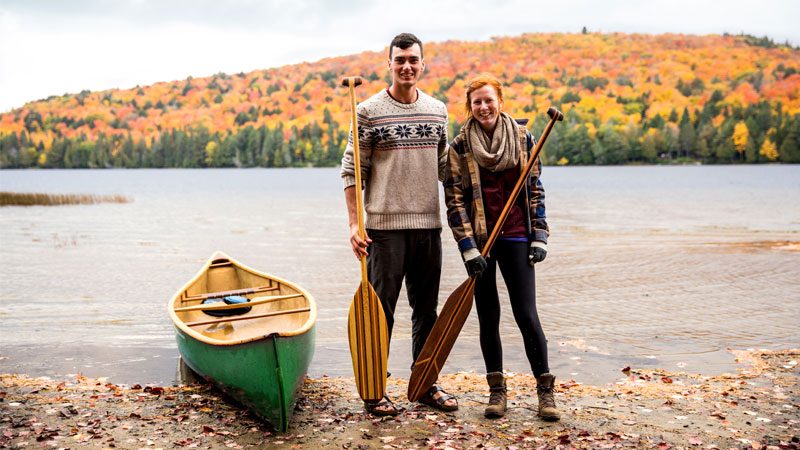 Public Reserved Lands
Public Reserved Lands in Maine's Lakes and Mountains
Maine's Lakes and Mountain's public reserved lands offer visitors endless miles of off-the-grid hiking, snowmobile trails, and wooded campgrounds. Come to fish, hike, spot moose, bird-watch, or picnic by the water.
Bald Mountain Public Reserved Land
Access via the Bald Mountain Road in Oquossoc
A four-season destination for hunters, hikers, and explorers, the one-mile hike to the top of Bald Mountain produces incredible views of the Rangeley, Cupsuptic, and Mooselookmeguntic lakes, and 
wildlife watchers can spot up to 200 different species in the surrounding forests.
Access over gravel roads off Rt. 27 in Carrabassett or via Long Falls Dam Road in North New Portland
Beginning on the north at Flagstaff Lake, the Bigelow Preserve covers 36,000 acres and all seven summits of the entire Bigelow Mountain range, including one of the 10 highest peaks in the state, West Peak. Visitors here can bike, hike, swim, hunt, snowmobile, camp, and more.
Access north of Stratton on Rt. 27
Natanis, Long, Bag, and Lower Ponds, connected by intermediary waterways, make up the Chain of Ponds area. All ponds offer remote lakeside camping sites along with canoeing, kayaking, bird-watching, and fishing.
Dead River Public Reserved Land:
Access gained via Long Falls Dam Road in North New Portland
This reserved area includes several miles of the Dead River along with portions of the Flagstaff Lake shoreline. ATV-ing, lakeside camping, biking, horseback riding, hunting, fishing, and snowmobiling are among the many activities available.
Access via Appalachian Trail on Rt. 17, Township D or Rt. 4, Sandy River
Located to the east of Mooselookmeguntic Lake, the reserve 
encompasses 6,000 acres, including a considerable piece of the Appalachian Trail. Campers will find a lean-to at Sabbath Day Pond and a site at Little Swift River Pond. Other activities include fishing, hiking, snowmobiling, and snowshoeing.
Hiker access via Grafton Notch State Park, Rt. 26. Vehicle access via Sunday River Road, Bethel or East B Hill Road between Upton and Andover
Located along the New Hampshire border in Oxford County, the Mahoosuc area mingles with the Grafton Notch State Park to include glacier-sculpted streams, waterfalls, and 30,000 acres of mountainous topography. Hiking, picnicking, camping, and ATV riding are popular activities in the area.
Richardson Public Reserved Land:
Boat access via the launch sites at Oquossoc in Rangeley and the South Arm in Township C
A full 22,000 acres comprise this reserve, set between Upper Richardson and Mooselookmeguntic Lakes. Remote mountainside campsites are abundant throughout the region, as are hardwood flats and softwood ridges bordering numerous small ponds and lakes.
71 White Mountain Drive, Compton, NH
Encompassing nearly 800,000 acres over portions of western Maine and New Hampshire, the forest offers 1,200 miles of hiking trails, 400 miles of snowmobile trails, 23 campgrounds, and 10 total alpine and touring ski areas. The forest boasts the highest peak east of the Mississippi, the largest alpine area south of Canada, and two National Register of Historic Places sites. The legendary Tuckerman's Ravine, the Presidential Range, and the Kancamagus Scenic Highway round out the forest's most famed features.
Visitor Resources Maine's State Parks |Official Guide to Maine State Parks & Lands App available on iTunes and Google Play.