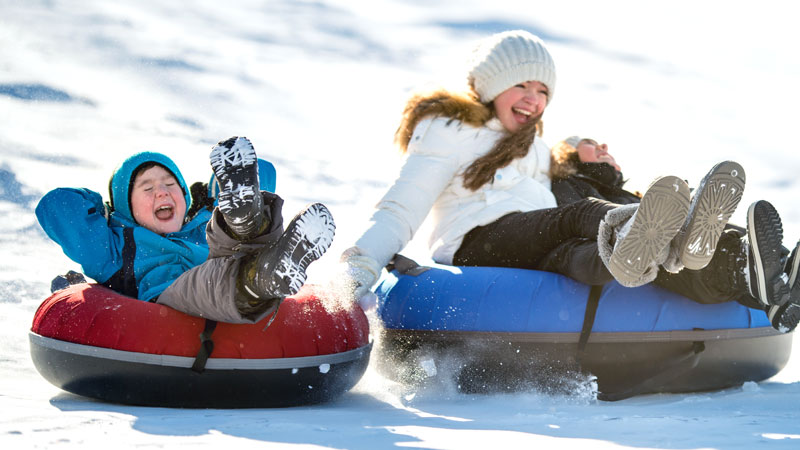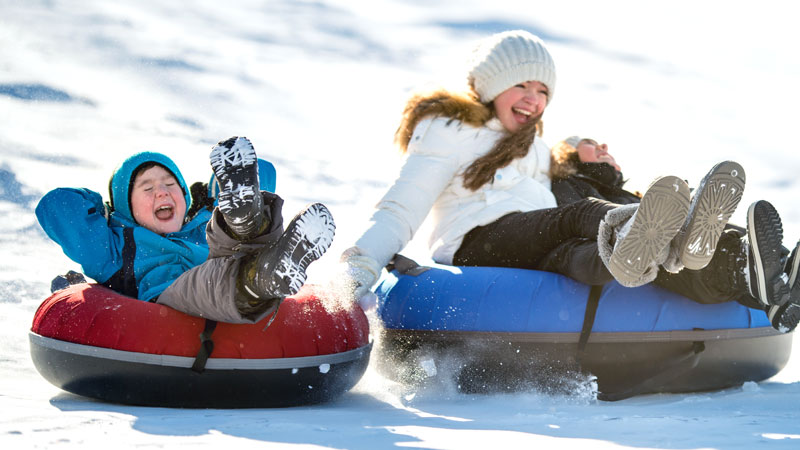 Sledding & Snow Tubing
Sledding and Snow Tubing in Maine's Lakes and Mountains
Regardless of age or level of athleticism, sledding and snow tubing are exciting wintertime activities. Many areas within Maine's Lakes and Mountains offer an opportunity to go careening down either a steep mountainside or tame hill, ideal for a sunny, snow-filled afternoon of fun.
At Sunday River in Newry, one can experience the thrill of snow tubing down Sundance Trail on the resort's South Ridge. Black Mountain of Maine in Rumford is a great family resort that offers snow tubing on weekends and school vacations. If you haven't been to Lost Valley Ski Area in Auburn lately, it is worth the trip. Their Maine Family Snow Tube Park features 600 ft long, groomed lanes and a handle tow lift to the top. Find out why it's the "coolest" snow park in Central Maine.
Not to be outdone by the mountain resorts is Seacoast Adventure in Windham with 12 lanes of snow tubing open for day and night tubing.
Most snow tubing parks offer tubes for rent and have tows or lifts to haul you back to the top. But there are also plenty of local hills. Grab your sled or tube, and a thermos of hot chocolate then hike up the hill yourself. It makes a memorable day of old-fashioned, outdoor family fun for free. Whether you're an outdoor adventurer, snow lover, or merely looking to get outside and enjoy the season now is the time to try snow tubing in Maine's Lakes and Mountains.