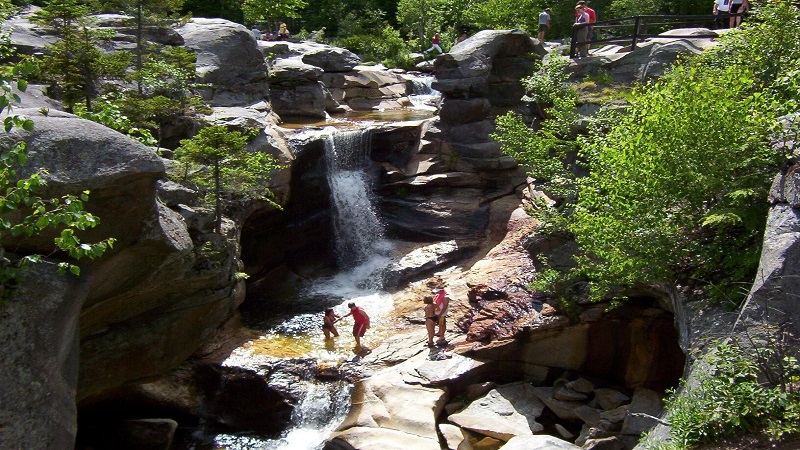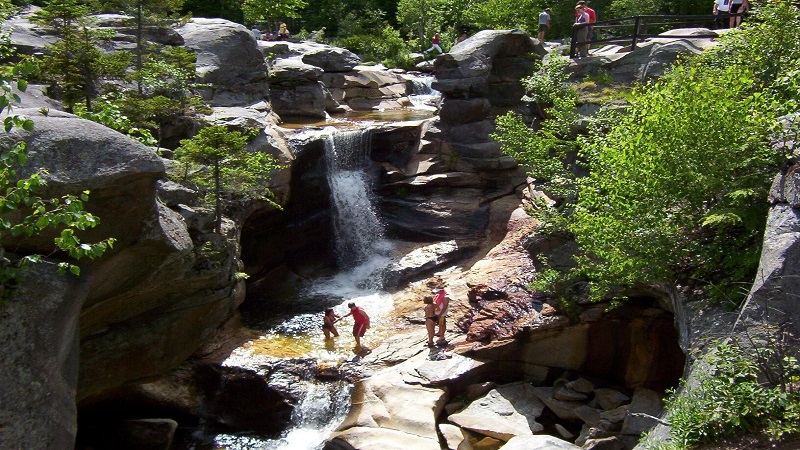 State Parks
State Parks in Maine's Lakes and Mountains
Maine's Lakes and Mountains is dotted with six state parks, seven public reserved land areas, and the White Mountain National Forest, which stretches from New Hampshire to the foothills of our western mountains. These combined areas offer miles of hiking and snowmobile trails and plenty of wooded campgrounds. Come to fish, hike, spot moose, bird-watch, or picnic by the ponds.
With state parks like Androscoggin Riverlands in Turner where a 2,675-acre expanse gives way to 23 miles of recreational and historic multi-use trails, river access for boating and fishing, and wildlife observation; or Range Pond State Park in Poland with a sandy beach for swimming, picnicking, and relaxing, there is a wide range of opportunities for all kinds of adventurers.
Public reserved lands offer a bevy of outdoor opportunities as well. From summiting one of the ten highest peaks in the state at Bigelow Preserve Public Reserved Land to spotting more than 200 different wildlife species at Bald Mountain Public Reserved Land, there is something for everyone.
Come and explore our state parks and public reserved lands for a memorable vacation or getaway close to nature.
---
Androscoggin Riverlands State Park
Center Bridge Road, Turner
A year-round 2,675-acre expanse that offers 23 miles of recreational and historic Shared-use trails, space for wildlife observation and hunting, and river access for boating and fishing.
Grafton Notch State Park
1941 Bear River Road, Newry
Stretching across 3,000 acres, the Grafton Notch State Park covers a portion of scenic Route 26 and provides access to the Appalachian Trail, Moose Cave, Spruce Meadow, and Screw Auger Falls, offering picnicking, bird-watching, fishing, snowmobiling, and hunting.
Mt. Blue State Park
299 Center Hill Road, Weld
Mt. Blue State Park offers a gorgeous sandy beach with panoramic views of the spectacular Mt. Blue mountain range. The park hosts wilderness camping, swimming, boating, hiking and walking trails in the summer, and snowmobiling, skiing, and snowshoeing in the winter.
Range Pond State Park
26 State Park Road, Poland
During a visit to the Lewiston Auburn area, stop by Range Pond State Park in Poland. The seasonal park offers a beautiful summer escape on the wide sandy beach for swimming, picnicking, and relaxing, while the smooth promenade offers hassle-free access parallel to the water.
Rangeley Lake State Park
South Shore Road, Rangeley
The vast 869 acres of the park offer over 50 camp sites to choose from, swimming, boating, picnicking, and walking. In the winter, embark on a snowmobile adventure on the park's town-maintained trails that connect you to other local trails and ITS 89.
Sebago Lake State Park
11 Park Access Road, Casco
Enjoy the splendor of Sebago Lake from the shores of the Sebago Lake State Park's beach. Day use includes grills, boat ramps, lifeguards, and bathhouses. Those wishing to extend their stay have a variety of 250 campsites to pick from and 1,400 acres to explore via hiking or biking.
---
Visitor Resources: Maine's State Parks | Official Guide to Maine State Parks & Lands App