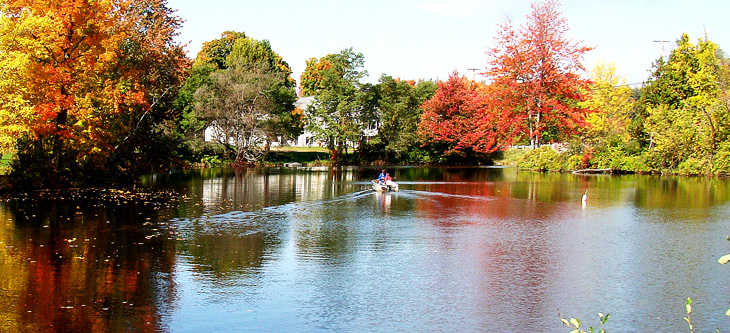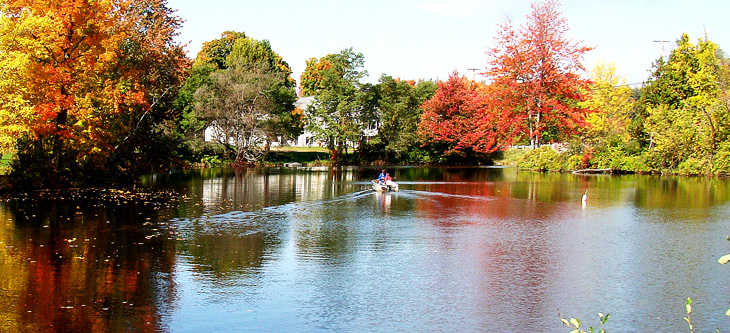 Western Maine Mountains Driving Tour
This tour is 80 miles.
Begin at the intersection of Route 108 east and Route 4 North in Livermore. Continue east on Route 108 for one mile. Turn left on to Norlands Road to NORLANDS LIVING HISTORY CENTER in Livermore, approximately 4.5 miles. The Norlands is a "working" 19th century farm and living-history center. Grounds include an 1823 one-room schoolhouse, 1828 church, 1867 Washburn Mansion, and 1883 stone library. Open to the public in July, August, and for special events throughout the year. Please call for events schedule 207-897-2236.
Turn right on to Route 4 and continue for 19 miles to downtown Farmington. Along the way, notice JAY HILL in Jay, a scenic vista located on Route 4. At the top of Jay Hill on the right is the HOLMES-CRAFTS HOMESTEAD AND JAY FIRE MUSEUM. Also, note the LITTLE RED SCHOOLHOUSE MUSEUM in Farmington along the way. The chamber of commerce is located in the museum, which includes a modern office with tourist information, as well as an authentic turn of the century schoolhouse with slates, wood stove and other nostalgic features. This one room schoolhouse built in 1852 and closed in 1958. 207-778-4215. The UNIVERSITY OF MAINE AT FARMINGTON, located in downtown Farmington, offers a wide variety of educational programs. The University houses the UMF Art Gallery 207-778-3501.
Turn right on Route 43 in downtown Farmington, travel 3.2 miles and turn left on Mosher Road. Mosher Road is unmarked so check mileage carefully from Route 43. Stop at MOSHER HILL SCENIC VISTA in Farmington, which offers exceptional views of Mt. Blue and Tumbledown Mountains. Mosher Hill borders Clearwater Pond, boat launch site available.
Turn left on Route 27 and continue for 2 miles to Holley Farm Road. Take a left on to Holley Farm Road to NORDICA HOMESTEAD MUSEUM, the birthplace of Lillian Nordica, world-famous opera singer. Open June through Labor Day, Tuesday through Saturday 10:00a.m. – 12:00 noon and 1:00 p.m. – 5:00 p.m. 207-778-4215.
Backtrack on Holley Farm Road on to Route 27. Turn right on Route 27 and continue until it intersects with Route 234. 5 miles. Turn left on Route 234 and continue until it intersects with Route 4. You will pass SPRUCE MOUNTAIN REST AREA in Avon on the left. 6 miles. This rest area is located on the banks of the Sandy River in Avon. This stop offers scenic views of Spruce Mountain.
Turn left on Route 145, and take a quick right turn on Route 4. Continue on Route 4 until it merges with Route 142 south. 19 miles. SANDY RIVER RAILROAD PARK is located across the bridge in downtown Phillips on Route 4. A restored narrow gauge train with one mile of original track along the river. Open on the first and third Sunday of each month, May through November 207-639-3001. Watch for signs on Route 2 and 142 for MT. BLUE STATE PARK in Weld. This lakeside park is surrounded by magnificent mountain scenery. The park offers hiking trails, swimming beach, fishing, bathhouse, campsites, picnic tables, fireplaces, boat launching, and rentals 207-585-2261.
Continue on Route 142 south to Route 156 in Weld. 6.5 miles. Follow Route 156 for 13 miles until it intersects with Route 2/4. The driving tour ends at the intersection of Route 2/4.