Cottage Resorts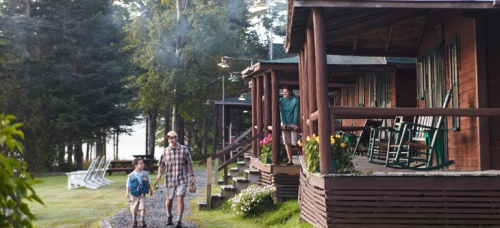 Cottage Resorts in Maine's Lakes and Mountains
Housekeeping cottages provide the perfect family getaway. Often clustered around common outdoor amenities such as playgrounds and swimming pools, housekeeping cottages also offer the flexibility to cook meals yourself, or skip it and head to a restaurant to sample the local cuisine. Housekeeping cottages usually come fully equipped with kitchen, living area, bathroom and multiple bedrooms.
Book a convenient lakeside stay at Bayview Cabins on Brandy Pond in Naples where one can enjoy water views from the cabins and a short walk to area amenities. And don't rule out the potential of a winter getaway, as well. Sam-O-Set 4 Season Cottages on Greenvale Cove in Rangeley is great for both families and sports enthusiasts and even offer canoe rentals for warm months and snowmobile rentals for colder months!
Make your stay easy; book a housekeeping cottage and stay in Maine's Lakes and Mountains.