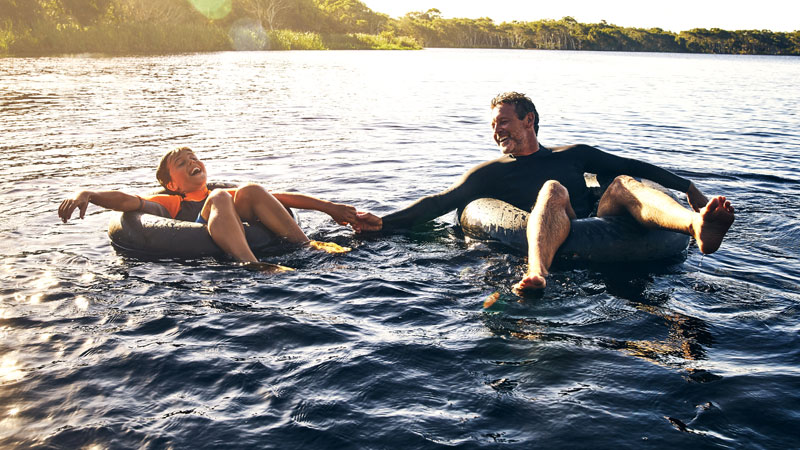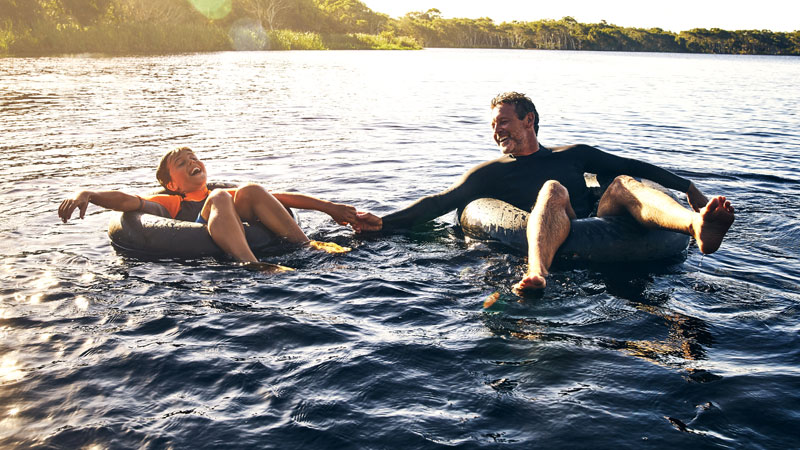 Beaches
Beaches in Maine's Lakes and Mountains
Freshwater beaches abound in Maine's Lakes and Mountains. Enjoy the easy refreshment of a cool dip in crystalline lakes set like jewels amid lush green forests.
Home to several stunning state parks, the region is diverse with the best swimming holes that Maine has to offer. Check out Mt. Blue State Park in Weld. Open year-round, the park boasts a charming, sandy lakeside beach with spectacular views of Mt. Blue and the surrounding mountains, as well as an extensive network of trails, a popular camping area, boat launch, and picnic area. Other state parks include Range Pond State Park in Poland, Rangeley Lake State Park, and Sebago Lake State Park, all with their own unique attractions and loads of swimming opportunities.
There are also plenty of public beaches to visit, such as Tassel Top Beach in Raymond. This family friendly beach, it's an ideal spot to pack up a picnic and the kids for a peaceful mid-morning dip. If you're looking for a full-on beach day and love convenience, look no further than Kiwanis Beach on Watchic Lake in Standish. With picnic tables (both sun and shade), concessions, bathrooms, and a recreation field, it's an ideal spot for all-day fun. Of course there are other great beaches, such as Anasagunticook Lake in Canton, Dundee Park in Windham, Lakeside Park in Rangeley and many more.
Did you know? Sebago Lake State Park is one of Maine's original state parks. Sebago Lake itself is Maine's deepest and second largest body of water.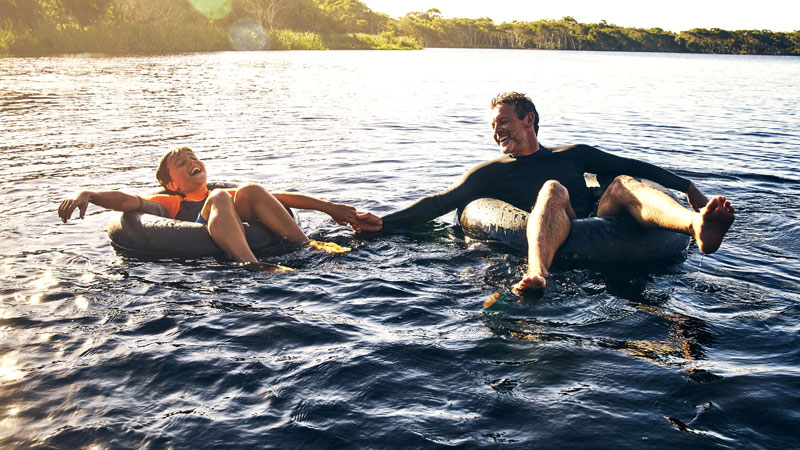 So, whether you want a quick dip or a full day of fun in the sun and seriously serene swimming, Maine's Lakes and Mountains has you covered.
---
State Park Beaches in Maine's Lakes and Mountains
Mt. Blue State Park - 299 Center Hill Rd., Weld
Range Pond State Park - 26 State Park Rd., Poland
Rangeley Lake State Park - South Shore Rd., Rangeley
Sebago Lake State Park - 11 Park Access Rd., Casco
Learn more at Maine State Parks
---
Local Beaches in Maine's Lakes and Mountains
Anasagunticook Lake - 1 Mile off Route 108, Canton
Cathedral Pines Campground - 945 Arnold Trail, Eustis 207-246-3491
Dundee Park - 79 Presumpscot Rd, Windham 207-893-2415
Kineowatha Park - Off Route 2, Wilson Lake, Wilton 207-645-4961
Kiwanis Beach, Watchic Lake - Route 25, Standish 207-642-3071
Lakeside Park - Main Street (Route 4), Rangeley 207-864-3326
Limington Rapids Rest Area - 11 Ossipee Trail W., Limington 207-637-2171
Norway Town Beach - Route 118, Norway 207-743-6651
Pequawket Beach - Moy-Mo-Då-Yo Recreation Area Route 25 W, Limington
Tassel Top Beach - Just off Route 302, Raymond 207-655-4675