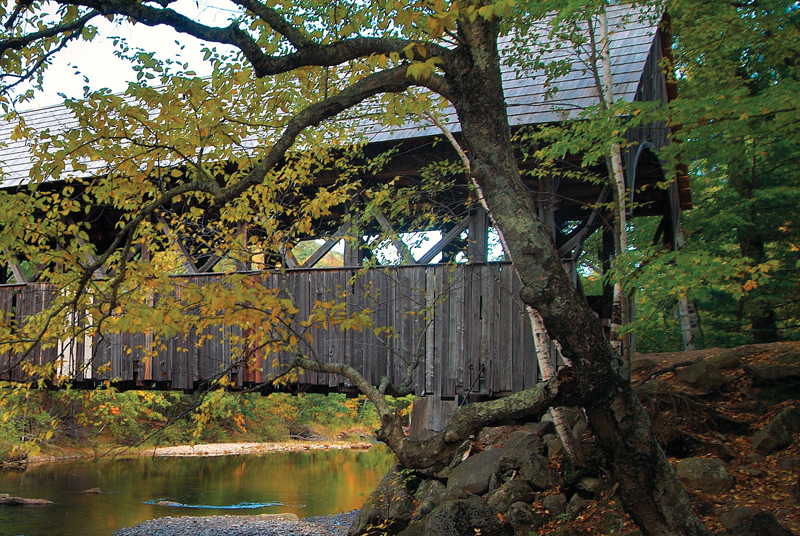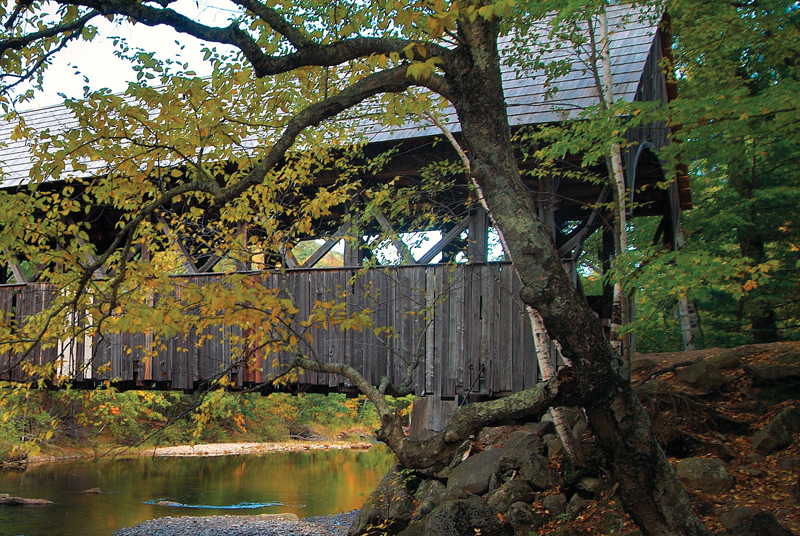 Covered Bridges
Covered Bridges in Maine's Lakes and Mountains
Once the only way to get there from here, covered bridges offer visitors a glimpse into our past.
Between the mid 1800s and early 1900s, covered bridges began to appear over Maine's mighty rivers, allowing travelers in horse-drawn carriages to forge rivers without getting swept downstream. These wooden structures had roofs added to protect them from the elements and had it not been for the "covers" over these bridges, the wood would have rotted and slowly disintegrated. Once there were 120 covered bridges in the state of Maine, but fire, flood, ice, progress, and the Great Freshet of 1896 have removed all but nine, six of which are located in Maine's Lakes and Mountains.
---
Did you know? With a total of six, the Maine's Lakes and Mountains region is home to more covered bridges than any other part of the state
---
GPS: 43°45'58"N 70°26'53"W Built in 1843, the bridge is one-span Queenpost truss construction with a total length of 79 feet. The original bridge was destroyed by fire in 1973 and an exact replica was constructed and opened to traffic in 1976. It is located two and a half miles north of South Windham, then one half mile west, over the Presumpscot River between the towns of Gorham and Windham.
GPS: 43°45'58"N 70°26'53"W The bridge, built in 1901, has trusses of the Paddleford type with a total length of 93 feet. It spans the Magalloway River. The bridge was closed to traffic in 1985. The bridge is located one and a half miles south of Wilson Mills and one mile west of the Wilson's Mills grange hall and fire station on Route 16.
GPS: 44°4'46"N 70°54'13"W Built in 1857, this bridge is a 109ft Paddleford truss strengthened with laminated wooden arches. It was reinforced to carry local traffic in 1988. It is located three miles northwest of East Fryeburg over an old channel of the Saco River on Route 302.
GPS: 44°35'37"N 70°44'2"W This bridge, built in 1868, is 70 feet long and spans the Ellis River. It has Paddleford trusses and is Maine's shortest covered bridge. The bridge was reinforced in 1984 to carry local traffic. It is located at South Andover on Route 5.
GPS: 43°47'30"N 70°56'18"W This bridge was built by the towns of Porter and Parsonsfield as a joint project over the Ossipee River in 1859. The bridge is a 152ft structure of Paddleford truss construction strengthened with laminated wooded arches. The bridge, located one half mile south of Porter, was closed to traffic in 1960 when a new bridge was built upstream.
GPS: 44°29'31"N 70°50'36"W This bridge, built in 1872, is named the Artist's Bridge because of its reputation as being the most photographed and painted of the venerable covered bridges in Maine. The bridge, an 87ft Paddleford truss, was closed to traffic in 1958 when a new bridge was built downstream. It is located about four miles northwest of North Bethel near Routes 2 and 26.
GPS: 44°35'37"N 70°44'2"W This unique suspension bridge, built in 1864, has granite abutments that span 198 feet across the Carrabassett River in New Portland and is likely to be the only such bridge still standing in the United States.