Fishing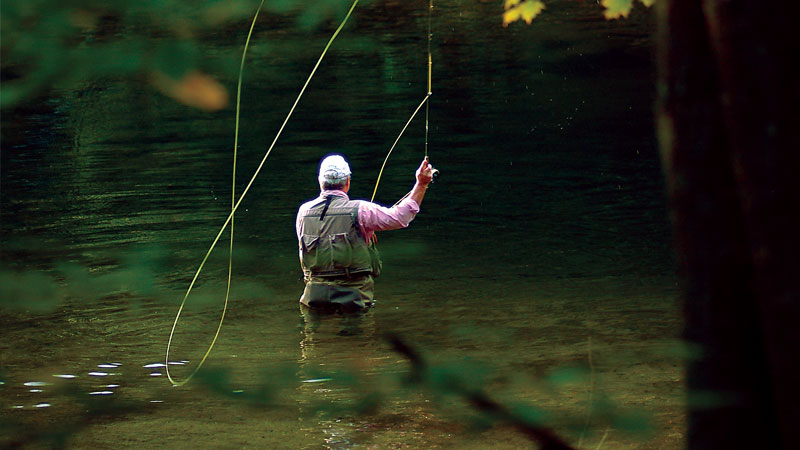 Summer or winter, the terrain in Western Maine creates an endless supply of cold swift-running streams and rivers and nearly every pond or lake offers up a thrilling challenge. Trout, bass, and salmon—so many of these beauties are waiting to be lured onto your hook. From the shore, in waders, on a boat, or through a hole in the ice. Without question, fishing here is one of the most exciting adventures you can have—a long-standing hot spot in the history of fly-fishing and a place with no shortage of superior bass fishing either.
Fly Fishing This region's countless waterways offer, perhaps, the finest fly-fishing in America. Places like Mooselookmeguntic and Rangeley Lakes and their flowing counterparts, the Rapid and Kennebago rivers, are a good place to start—remote, pristine, and very much filled with hefty trout. The Rapid River is even considered by some to be the top wild brook trout fishery in the U.S. The Upper Dam Pool is also famous for producing many trophy-size trout.
Take the time to visit the Rangeley Outdoor Sporting Heritage Museum in Oquossoc to put into context the importance and history of this sport for the region. Many of the most successful flies ever tied came out of this part of the state.
Landlocked salmon are another prized fish, and the Richardsons (Upper and Lower) can be reached from launches at Mill Brook. As a bonus, they also offer the only spot in the region where you can catch togue (lake trout). Sebago Lake is the place to be for early spring trout fishing. Its southerly position makes it very popular, once the ice is out, with thousands of anglers throughout the country ringing in the new season with excellent fly-fishing.
Open Water Fishing Fly-fishermen aren't the only ones having a great time on the water. Smallmouth and largemouth bass, as well as perch and sunfish, are also fun to catch in this region. Even the folks at Bassmaster Magazine have identified the crystal-clear waters of Kezar Lake as a prime spot for big bass. But we know that many, many waterbodies top the list of the Maine bass angler, including Androscoggin Lake and Androscoggin River. In Greenwood, head to Twitchell, Indian, and Round ponds, as well as Moose Pond in West Paris, for a great day of fishing.
Ice Fishing Don't forget that when the weather turns cold the water under the ice is still filled with hungry fish. Folks drag shacks out onto their favorite pond and start setting up traps just as soon as the ice is thick enough to safely withstand it. Plus, the "Hardwater" culture in Maine has grown in popularity with families joining derbies that offer prizes. What an excellent way for kids to fall in love with this timeless sport.
Keep in Mind Anyone fishing or hunting in Maine must possess the proper license. Our laws, guidelines, and seasons often vary from year to year. Hire a Registered Maine Guide; these talented individuals are worth the investment and will help ensure a safe and successful adventure.
Visitor Resources Maine Fishing Laws | Registered Maine Guides